Twentieth Anniversary of the Cuban Rafter Crisis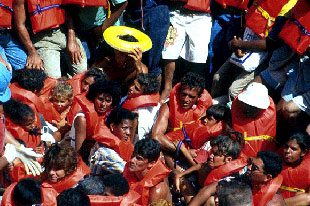 Cuban rafters rescued at sea. Courtesy of the Seventh Coast Guard District
In all of 1993, the U.S. Coast Guard rescued 3,656 Cubans at sea. By July 1994, over 4,700 Cubans had risked their lives to escape the island. Between June 4 and August 4 of that same year, Cubans trying to flee the island had made seven attempts to hijack ferries and other vessels in the Bay of Havana. On Friday, August 5, 1994, thousands of Cubans gathered along Havana's Malecon after rumors raged through the city that a fleet of boats was coming from Miami to pick up any Cuban who wanted to leave the island. By the end of the month, over 21,000 Cubans of all ages had set out to sea in rafts and boats headed for the United States in what became the largest exodus from Cuba since the Mariel boatlift of 1980. During the Cuban rafter crisis, over 32,000 Cubans left from all parts of the island. The impact of the exodus can be seen in everything from the United States' "wet foot, dry foot" policy for Cuban migrants, to the Elian Gonzalez affair, to the changing social and cultural fabric of the Cuban community in South Florida.
This August marks twenty years since the Cuban rafter crisis. The Cuban Heritage Collection is commemorating this anniversary with several programs and collaborations between August and October 2014, including:
We will be sharing additional information about these programs and related events in the coming weeks. For research materials on the Cuban rafter crisis or to schedule a class visit to CHC focusing on this topic, please contact us at chc@miami.edu.
La Belle Créole Presentation by Alina García-Lapuerta on September 11
The Cuban Heritage Collection and Books & Books invite you to a presentation of the book La Belle Créole by Alina García-Lapuerta on Thursday, September 11, at 7 p.m. at the Roberto C. Goizueta Pavilion. Space is limited. RSVP by September 3 to richterevents@miami.edu or 305-284-4026.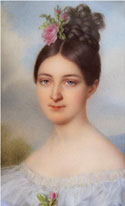 Biographer Alina García-Lapuerta presents La Belle Créole, the story of María de las Mercedes de Santa Cruz y Montalvo, the Countess of Merlin (1789-1852). García-Lapuerta has written the first English-language biography of the Cuban-born countess, author, and soprano, who rose to stardom in nineteenth-century Parisian society. Stringing together stories, memoirs, travel writings, and personal correspondence, La Belle Créole reveals a captivating and seductive portrait of a daughter of the Creole aristocracy who epitomized an unusually modern and sophisticated life.
La Belle Créole is published by Chicago Review Press and is available for purchase at Books & Books.
Sponsored by the Amigos of the Cuban Heritage Collection

Click here to download a PDF of the invitation »
CHC Research Colloquia August Schedule

Do not miss the presentations scheduled for August as part of the Cuban Heritage Collection's 2014-2015 Research Colloquia. ​RSVP to 305-284-4900 or chc@miami.edu.
Tuesday, August 12 at 3 p.m. Sarah Becker, University of Houston (CHC Graduate Fellow) Yemayá and Ochún, or the Literary Tradition of the Feminine Orishas: The Feminist-Queer Ethnography of Lydia Cabrera
Thursday, August 21 at 3 p.m. Yesenia Fernandez Selier (Arts in the Cuban Republic Fellow) Ambassadors of Cuban Dance in the 1930s: The Repercussions of Rumba Craze in Cuba
Thursday, August 28 at 3 p.m. Zeila Frade, Florida International University (CHC Graduate Fellow) Children's Literature, Ideology and Cultural Identity Before and After the Cuban Revolution
CHC to House Archive for Havana's Merici Academy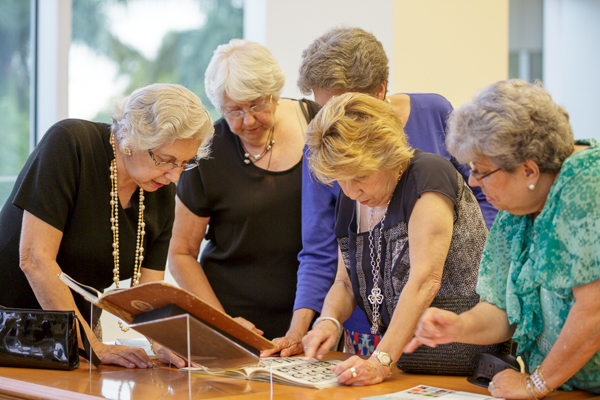 Former students of Merici Academy examine materials related to private education in Cuba. Photo by Brittney Bomnin
The Merici Academy Alumnae Association is partnering with the Cuban Heritage Collection to preserve the Havana school's history. A group of forty former students gathered in the Roberto C. Goizueta Pavilion on July 15 to learn more about how they could help establish a school archive with the Collection.
Located in Havana's Biltmore neighborhood, the Merici Academy was an all-girls school run by North American Ursuline nuns from 1941-1961. Three hundred students were enrolled in the Catholic academy the year it closed, a result of the Cuban Revolution. Continue reading »
CHC Recommends: Wifredo Lam: Imagining New Worlds

If you're in the Boston area this fall, consider a visit to the McMullen Museum at Boston College, where a major exhibition will open August 30 exploring the canon of Cuban painter Wifredo Lam (1902-1982). Wifredo Lam: Imagining New Worlds will present more than forty paintings and a wide selection of works on paper, examining the full range of the artist's career. CHC lent materials for this retrospective, which also examines Lam's many artistic and poetic influences, including Pablo Picasso, André Breton, Federico García Lorca, Alejo Carpentier, Gabriel García Marquez, and Aimé Cesaire. The exhibition will run through December 14.