CHC offers fellowships for 2014-2015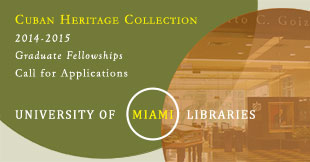 The Cuban Heritage Collection (CHC) Fellowships program provides assistance to students and scholars who wish to use the resources available in the Cuban Heritage Collection at the University of Miami Libraries for research on Cuba, the Cuban diaspora, or interdisciplinary studies that include Cuban or diasporic contexts.
For the 2014-2015 award cycle, the CHC will award Fellowships in three categories: 1) Graduate Research Fellowships, 2) Graduate Pre-Prospectus Summer Fellowships, and 3) a new fellowship for work on the Arts in the Cuban Republic. Information on each of these award categories, eligibility, criteria, and how to apply is available at http://library.miami.edu/chc/fellows/announcement-2014. The application deadline for all categories is February 1, 2014.

For more information, please write to chc@miami.edu »

Belen history class traces school's roots at CHC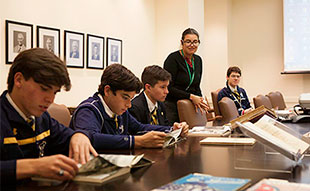 CHC Librarian Meiyolet Méndez spoke to Belen students and teachers about the Collection and how to research materials online.
In November, we welcomed a group of students and teachers from Belen Jesuit Preparatory School. Dr. Octavio Ramos, a Belen history teacher who received his doctorate in history from the University of Miami, organized a visit to the Cuban Heritage Collection that included Belen's social studies chair Patrick Collins and a dozen students.
The focal point of the trip was Roberto C. Goizueta, former Coca Cola CEO and a subject of Ramos's history class. The students learned about the Collection, got a behind-the-scenes tour of the Goizueta Pavilion, and browsed through our digital collections. The students had an opportunity to look at historical materials related to the Belen school in Cuba, including astronomical logs from its observatory and yearbooks from the 1950s.
If you would like to organize a group visit, please contact us at chc@miami.edu or 305-284-4900.

CHC intern reflects on her time working with archives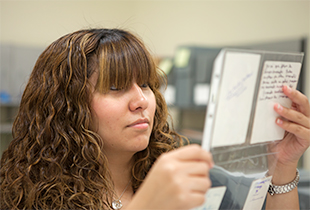 Alex Diaz focused on a group of records pertaining to Operation Pedro Pan.
Alexandra Diaz, an undergraduate student at Florida Atlantic University, recently completed a semester-long internship in the Cuban Heritage Collection. Alex is studying political science and history, and will be graduating next May. She first learned about the opportunity through her professor Graciella Cruz-Taura, who serves on the board of the Amigos of the Cuban Heritage Collection. Dr. Cruz-Taura suggested an internship at the CHC as a perfect way to enrich her studies while fulfilling a class requirement.
Over the Fall 2013 semester, Alex worked with CHC Archivist Natalie Baur to arrange and describe materials related to Operation Pedro Pan, the largest migration of unaccompanied minors in U.S. history, totaling more than 14,000 children who arrived in the United States from Cuba under the supervision of the Catholic Welfare Bureau from 1960-1962. The Cuban Heritage Collection holds several collections of photographs, travel documents, correspondence and documentaries related to Operation Pedro Pan. Continue reading »

Scholar Spotlight: Kelly Urban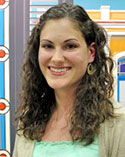 Kelly Urban is a PhD candidate in History at the University of Pittsburgh. She was a Cuban Heritage Collection Graduate Pre-Prospectus Fellow in 2011 and returned for another three-month research period in 2013. Her project is entitled "For the Poor Sick Ones and for Cuba: Tuberculosis and Nationalism in Cuba, 1902-1959," and analyzes the development of state policies and programs that dealt with tuberculosis in Cuba, the delivery and practice of public health, and the debates and controversies that surrounded these policies and practices. Kelly describes tuberculosis as a "social disease of great importance in Cuba during the first half of the twentieth century, described as an unrecognized yet fearsome ghost in the countryside and a pervasive scourge in Havana's ever-expanding slums." Continue reading »

Learn more about past CHC Graduate Fellows »