DIRECTOR'S STATEMENT
Dear Friends of the Cuban Heritage Collection,

2022 has been a year of growth and change for Cuban Heritage Collection. Since April, I have taken on the role of Interim Esperanza Bravo de Varona Chair for the department. My connection to the Cuban Heritage Collection began when I started working as an undergraduate student assistant digitizing legacy audiovisual materials. This initial exposure to archival work led me on a path toward librarianship that brought me back to the Collection, where I have served as its archivist since 2017. As interim chair, I have been able to lead our strong, dedicated team in our efforts to fulfill our mission of collecting, preserving, and providing access to materials of enduring historical and research value on Cuba and its diaspora, while offering exemplary service to our patrons.

I have also had the pleasure of working with Dr. Michael Bustamante, Emilio Bacardí Moreau Chair in Cuban and Cuban-American Studies at the University of Miami, to integrate the Collection's work with broader Cuban Studies initiatives on campus. I am thrilled at the prospect of closer collaboration with the University's academic units to solidify the Cuban Heritage Collection's place as a premiere research center for the study of Cuba and its diaspora. I look forward to working with our students, faculty, and the community-at-large to shape our vision for the future of the Collection.

Through donations and strategic acquisitions, the Cuban Heritage Collection continues to expand our resources on the study of Cuba and its global diaspora, enriching the documentary heritage of Cubans wherever they are in the world. Working with our patrons, we connect community members to their history, stewarding the records of our collective past and present, while serving as the leading academic repository for students and scholars to develop the production of new knowledge in Cuban studies. Our mission to provide equitable access to our collections encourages the active use of our materials through research, teaching, exhibitions, and public programs.

Join us as we look back on the activities and progress of the Collection over this past year and pay tribute to friends we have lost. We look forward to sharing information about future programs in early 2023.

Warmly,



Amanda T. Moreno, M.S.L.I.S./M.A.
Interim Esperanza Bravo de Varona Chair
Cuban Heritage Collection
University of Miami Libraries
GOIZUETA PROGRAMS
Graduate Fellowship
Applications are now being accepted for the Goizueta Foundation Graduate Fellowship Program supporting doctoral research with primary and secondary source materials at the Cuban Heritage Collection. The goal of the Goizueta Graduate Fellowships is to engage emerging scholars with the Collection's materials and thus contribute to the larger body of scholarship in Cuban and Cuban diaspora studies. Applicants with an interdisciplinary approach to the study of Cuba and its diaspora, of any time period, are encouraged to apply. Learn more about the application process.
FROM THE CURATOR'S CORNER
I am excited to announce that as of September 1, I assumed a new role at the Cuban Heritage Collection as Curator for Cuban Collections. In this capacity, I have the opportunity to focus more fully and strategically on the work I began during my tenure as chair from 2018-2022 in areas related to research and collection development, programming, and donor relations.

As curator, I will primarily focus on procuring materials related to the visual arts and art history, as well as Cuban exile history and culture. The Luis Camnitzer and Rachel Weiss papers, as well as the José Kozer papers are just two examples that represent the types of acquisitions we secured under my leadership that significantly added to our existing holdings in the research areas of contemporary Cuban visual arts and Cuban diasporic literary production. The recent purchases of the photographic work of Tony Mendoza and the late Mario Algaze, as well as drawings by Nereida García-Ferraz, made notable additions to our holdings of works on paper and contemporary photography. These acquisitions also represent one of our collection development priorities, that is, a special focus on practitioners who belong to a generation of Cuban Americans that emerged in the U.S. during the 1970s and 1980s, a period pivotal to the formation of a Cuban American cultural identity.

As I discovered during my visiting researcher fellowship at Cuban Heritage Collection in 2014, the department already boasts several collections in the area of art and culture, such as the records of the Cuban Museum of Arts & Culture and INTAR Theatre (which includes INTAR Gallery). With the recent donation by the Cintas Foundation of their records, together, these collections represent some of the pillars of Cuban diasporic cultural history. The Collection also has an impressive collection of artists' books from creatives on the island and in the diaspora. Building on this strong foundation, the Cuban Heritage Collection is well-positioned to create a stellar archive of materials and objects that represent the rich history of the visual arts from Cuba and its diaspora—from the modern period to the present.

I look forward to working closely with Interim Chair Amanda Moreno and the team at the Collection in continuing to develop initiatives that bring visibility to the breadth and depth of our collection through curated initiatives that we will continue to offer our patrons, reinforcing our singular place in the Cuban studies landscape. Leveraging my areas of expertise in modern and contemporary Cuban and Cuban American art, my knowledge of and passion for Cuban exile history, and deep ties within the local Cuban community will allow me to continue contributing meaningfully to the Cuban Heritage Collection—a place very dear to my heart and to many!
Image credits (top to bottom): "La fuerza del guerrero," by Juan Francisco Elso, 1985-1986, from the Luis Camnitzer and Rachel Weiss papers;

From the series "El peso histórico," 2018-2020, walnut ink on watercolor paper, 11x14";

"Untitled," from the series "Stories" by Tony Mendoza, 1987-1990. Cuban Heritage Collection, University of Miami Libraries.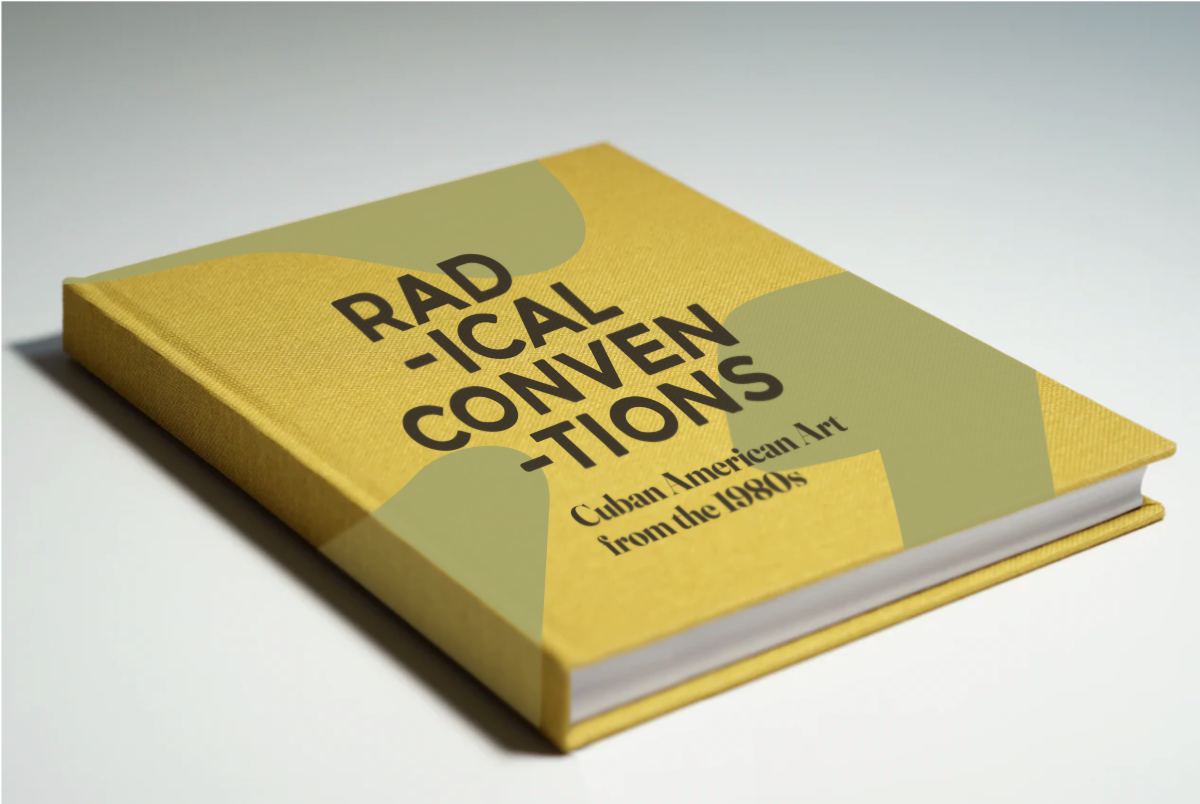 Exhibition catalog published for "Radical Conventions: Cuban American Art from the 1980s"

In early 2022, Elizabeth Cerejido curated the exhibition "Radical Conventions: Cuban American Art from the 1980s," the first major exhibition project spearheaded by the Cuban Heritage Collection in partnership with the Lowe Art Museum. On view from March to June, the exhibition was a unique opportunity to prominently feature art materials from our collection; that visibility also drew the attention of other donors and helped us secure new acquisitions.

"Radical Conventions" was initially conceived as the visual arts component for a much broader program titled "El efecto Mariel: Before, During, and After," launched in 2020 under Dr. Cerejido's direction to commemorate the 40th anniversary of the Mariel Boatlift. The accompanying publication (also a first for the Collection) with scholarly essays by Chon Noriega (University of California, Los Angeles), Gean Moreno (Institute of Contemporary Art, Miami), and Cerejido presented a welcoming and necessary discursive platform from which to offer critical perspectives on the subject of Cuban American art, reinforcing key aspects of the Collection's mission to support research and advance innovative scholarship. The catalog is available for purchase at the Roberto C. Goizueta Pavilion.

From 2021 to 2022, the Cuban Heritage Collection conducted oral history interviews with the founders and key members of Movimiento San Isidro, a group of Cuban artists, journalists, and academics that have protested censorship of artistic expression in Cuba since 2018. The oral history project, generously sponsored by the Amigos of the Cuban Heritage Collection, documents the stories and experiences of the leaders of the movement in their defense of human rights on the island. Thirteen interviews are now available to view online. Editing of the interviews was done in collaboration with the Immigrant Archive Project. We thank the following individuals and organizations for their support of this project: José Antonio Costa, Tony Hernández and the Immigrant Archive Project, Aida Levitan and Artes Miami, Jorge Mas Santos, Vanessa Mendez Gamez and Luis Gamez, Julio Pichs, Carlos Quintela, Fausto Sánchez, Jorge San Miguel, and Francisco Santeiro.

In October, the Cuban Heritage Collection received a donation of music scores, photographs, awards, and audiovisual materials documenting the professional career of Grammy award-winning musician Paquito D'Rivera. Born in Havana, Cuba, in 1948, D'Rivera studied at the Havana Conservatory of Music and was a featured soloist with the Cuban National Symphony at age 17, playing the clarinet and saxophone. His early start in music foreshadowed later success as a founding member of the Orquesta Cubana de Música Moderna, the incomparable jazz group Irakere, and the United Nations Orchestra. Working as both an instrumentalist and composer, D'Rivera is the first artist to win Latin Grammys in both the classical and Latin jazz categories. We are honored to preserve D'Rivera's musical legacy at the Cuban Heritage Collection.
Image credits: "Rolando Laserie and a young Paquito D'Rivera" photograph from the Rolando Laserie Papers; "Paquito D'Rivera" photograph by David Gahr for Columbia Records from the Cuban Photograph Collection. Cuban Heritage Collection, University of Miami Libraries.
IN MEMORIAM
Remembering Leandro Soto (b. Cuba, 1956; d. California, U.S.A., 2022)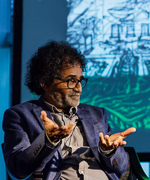 Leandro Soto holds a singular place in contemporary Cuban art history for being a pioneering figure in performance and installation art. Soto was an integral part of a group of artists known as "la generación de los 80" (the 1980s generation) who emerged in the late 1970s and ushered in a new era of art making in Cuba with the groundbreaking exhibition, "Volumen Uno." Soto, like some of his peers, such as José Bedia and Juan Francisco Elso, infused the language of contemporary art with Afro-Cuban as well as Mesoamerican elements. The insertion of non-Western components related to ritual and symbolism into the parlance of performance and installation art was a way of breaking down Euro-American-centric structures and hierarchies between fine art and popular culture, a postmodernist thinking that defined this generation's art making practice.

Soto's interdisciplinary practice also extended to theatre and pedagogy. In 1988, he moved to Mexico, where he founded the art school El Tesoro de Tamulté for indigenous children of the Maya-Chontal community. He traveled extensively throughout his life, living and working in the Caribbean, in India, as well as in the United States, where he also taught in Arizona, Buffalo, New York, and South Hadley, Massachusetts.

The Cuban Heritage Collection proudly houses the Leandro Soto papers, comprised primarily of original drawings and sketches the artist created for numerous theater productions, such as "Los fantasmas de Tulemón" and "La peregrina," among numerous others. Most recently, the Cuban Heritage Collection acquired additional materials that significantly add historical and research value to our existing holdings on the artist's life and work. These include slides of all his projects, correspondence, sketchbooks, illustrated publications, programs of performances as a set designer, as well as material from his career and teachings in Cuba.

In 2018, Soto created a site-specific work commissioned by the Cuban Heritage Collection and the University Libraries for an exhibition titled "Caribbean Fragments," co-curated by Béatrice Skokan and Dr. Martin Tsang. The exhibition culminated in a program featuring Professor Lillian Manzor in conversation with the artist. The talk was followed by a performance directed by Soto featuring dance and theatre students from the Frost School of Music at the University of Miami.
Lead photo: Leandro Soto speaks at the "Caribbean Fragments" exhibition program in the Roberto C. Goizueta Pavilion, 2018. Photo by Creative/University Libraries. Image credits: Soto and Professor Manzor in conversation at the "Caribbean Fragments" exhibition program in the Roberto C. Goizueta Pavilion, 2018. Photo by Creative/University Libraries; "Así es como es" photograph from the Leandro Soto Papers. Cuban Heritage Collection, University of Miami Libraries.
Remembering Mario Algaze (b. Cuba, 1947; d. Miami, U.S.A., 2022)
By Elizabeth Cerejido
I met Mario Algaze when I was a young, aspiring photographer in my early twenties and was immediately taken by his infectious energy and passion for and knowledge of photography. By then—the early 1990s—Mario was an established fine-art photographer, who had also enjoyed a successful career as a freelance photographer for various national and international publications. Self-taught and determined, Mario traveled all over the world on assignment, while also capturing rock 'n' roll giants, such as Janis Joplin and The Rolling Stones when they toured in South Florida. One particular relationship that grew from this period was with the legendary Nina Simone. A memorable color portrait of her hung in his living room, just above his extensive collection of music, in which she is pictured holding a gold lamé fabric over her body, the shimmering color contrasting beautifully against her deep brown skin.

However, it was in his travels throughout Latin America where Algaze found fertile ground for his mature work in black and white, for which he would become internationally renowned. Always alert and ready to capture what Cartier-Bresson famously called "the decisive moment," images such as "Carretas, Guatemala" (1979), or "Cotton Candy, San Miguel, Mexico" (1981) are iconic in his oeuvre and exemplify Algaze's keen vision, in which the mundane and the surreal are masterfully juxtaposed.

Mario left his native home of Cuba in 1960 at the age of 13 and settled in Miami, Florida. In 2000, he returned to the island, capturing everyday scenes from his extensive travels throughout the country. That work was beautifully presented in a limited portfolio titled "Cuba: 2000," one of which the Cuban Heritage Collection acquired earlier this year. In addition to his classic black and white photography, the Collection also purchased 12 Cibachrome prints from Algaze's "Little Havana" series. These rich, warm color portraits document the daily life of a working class Cuban American neighborhood and were recently exhibited as part of "Radical Conventions: Cuban American Art from the 1980s" at the Lowe Art Museum.

Mario Algaze founded Gallery Exposures in 1979, the first gallery in South Florida solely dedicated to photography. Algaze was the recipient of numerous prestigious awards, and his work can be found in important museum collections, including Museum of Fine Arts, Houston; Museo Tamayo, Mexico City; Santa Barbara Museum; Museum of Photographic Arts, San Diego; Victoria and Albert Museum, London; DePaul University, Chicago; and the Cleveland Museum of Art.
Image credits (top to bottom): "Untitled," from the series "Little Havana," ca. 1984;

"Algaze Cuba Mira quien viene,"

from the series "Little Havana," ca. 1984; "Algaze Homenaje a Titón," from the series "Little Havana," ca. 1984. Cuban Heritage Collection, University of Miami Libraries.
NOW ON VIEW
"Aquí se contiene... Highlights from the Cuban Heritage Collection"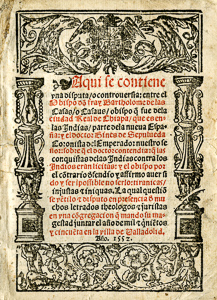 Additional collection materials, including recent acquisitions and donations, are on display in our current exhibition titled, "Aquí se contiene... Highlights from the Cuban Heritage Collection." The title, which translates to English as "Here it is Contained... " was inspired by the first line from one of the oldest books in the collection: a tome written in 1552 by Bartolomé de las Casas, a 16th-century Dominican friar and priest who became known for his advocacy of the rights of the indigenous of the Americas. "Here it is Contained," more specifically, refers to all the treasures contained within the Collection; featured in the exhibition are artists' books, photographs, historical documents, and much more from our vast and rich repository.

Image credit: Page from the one of the oldest books in the collection by Bartolomé de las Casas, 1552. Cuban Heritage Collection, University of Miami Libraries.
You can help shape a brighter future for our students, our community, our health, and our planet. Your gift of any amount can make a positive impact and help transform lives through education, research, innovation, and service. Learn more

»