Scholar Spotlight: Raúl Galván
With the generous support of The Goizueta Foundation, the Cuban Heritage Collection launched its Graduate Fellowships program in 2010. That same year, in partnership with the University of Miami's College of Arts and Sciences, we also inaugurated the Undergraduate Scholars program. To date, we have ten Graduate Fellows and eleven Undergraduate Scholars.
On our website, we have posted research reports and clips from interviews with the emerging scholars that have made use of the Collection through these programs. By visiting each Fellow's and Scholars profile page, you can learn about his or her work and experience conducting research at the Cuban Heritage Collection. Starting this week, we are introducing Scholar Spotlight, a new series on our blog that will highlight alumni of the Graduate Fellowships and Undergraduate Scholars programs.
We kick off the series with CHC Graduate Fellow Raúl Galván, a Ph.D. candidate in History at the University of Wisconsin Milwaukee.

Raúl's doctoral dissertation is entitled "Cuban Transnationals in the Late 19th Century: Sugar, Revolution and Citizenship." Raúl was with us for a month, during which he completed approximately 60 pages of his dissertation. Raúl consulted a number of secondary resources, bibliographies and manuscript collections, including the Tomás Estrada Palma Collection and the Fernández-Cavada Collection. Additionaly, a major component of Raúl's research experience was the resourcefulness and the personal connections of the CHC librarians. Esperanza B. de Varona, Chair of the Cuban Heritage Collection, was able to introduce him, via phone, to Fernando Fernández-Cavada, grandson and nephew of the brothers and only living member of the family.
Raúl's research in our Collection featured in a paper he presented at the 2011 Colonial Latin American History section of the American Historical Association Conference in January 2011 and another paper to be presented in Detroit at the Citizenship Studies Conference later this year. He anticipates that his dissertation will be completed in May.

Learn more about Raúl Galván's research.

Watch Raúl Galván discuss his research and experience at CHC.

Mellon Foundation grant will help Cuban Theater Digital Archive improve technical infrastructure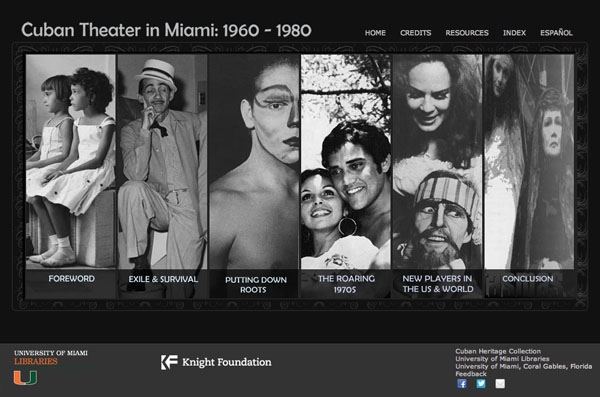 The University of Miami Libraries and the College of Arts and Sciences have received a generous grant from the Andrew W. Mellon Foundation to rebuild the technical and organizational infrastructure for the Cuban Theater Digital Archive (CTDA), a unique digital collection of Cuban theater resources. Learn more »