CHC recognizes its donors at event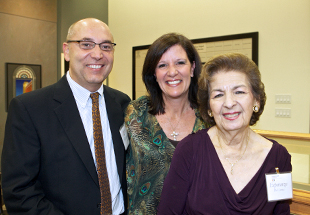 Octavio and Vivian Verdeja with Chair Esperanza Bravo de Varona during the Donor Recognition Event in January 2012.
The University of Miami's Otto G. Richter Library recently hosted a reception to honor those that have helped build the collection through donations of materials over the past 10 years. Over 100 guests celebrated the unparalleled Cuban Heritage Collection and enjoyed festivities and recognition.

View more photos from the Donor Recognition Event.

Scholar Spotlight: Sitela Alvarez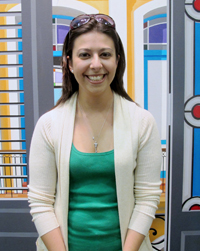 Sitela Alvarez is a Ph.D. candidate in History at Tulane University and was in residence at the Cuban Heritage Collection for one month in 2011 as a Pre-Prospectus Fellow. Her research is entitled "The Religious and Nationalist Transformation of Cuba, 1790-1860." Sitela's dissertation focusses on the late-eighteenth and mid-nineteenth centuries to reveal the degree that the Enlightenment permeated Cuban society, and the possible causes that led to a schism between Catholicism and Cuban liberal intellectuals. Her interest in religious ideology and nationalism stems from her previous work, which examines how the political association of Catholicism and Spanish colonialism in Cuba led Cuban émigrés to distrust Catholicism in the late nineteenth century.
During her time at the CHC, Sitela looked extensively at the Cuban Catholic Church Papers, Cuba and Florida Inquisition Papers, Cuban Historical and Literary Manuscripts, and La Gaceta de la Habana. She also gained access to over 38 books that were unavailable in other local or national libraries, as well as unprocessed materials acquired from the independent historian Salvador Larrúa. With the help of CHC Chair Esperanza B. de Varona, she was able to meet with Father Fidel Rodriguez and Larrúa, which proved invaluable sources for her research. She also benefitted greatly from meeting and discussing ideas with fellow researchers João Felipe Gonçalves and Guillermo Flores Laforet.
After completing her fellowship at the CHC, Sitela continued working on the last two chapters of her dissertation, which she plans on defending in July 2012. She hopes to develop the project into a book manuscript. "I am extremely thankful to the Cuban Heritage Collection for their generous financial support and for access to the archival collections," she explains. "I recommend this fellowship and archive to any Cuban scholar, their materials are in excellent condition and they provide such a comfortable and welcoming archival experience."

Learn more about Sitela Alvarez's research.

Watch a video of Sitela Alvarez discussing her research and experience at CHC.

Now on Display - The Cuba-Florida Connection: Materials from the Cuban Heritage Collection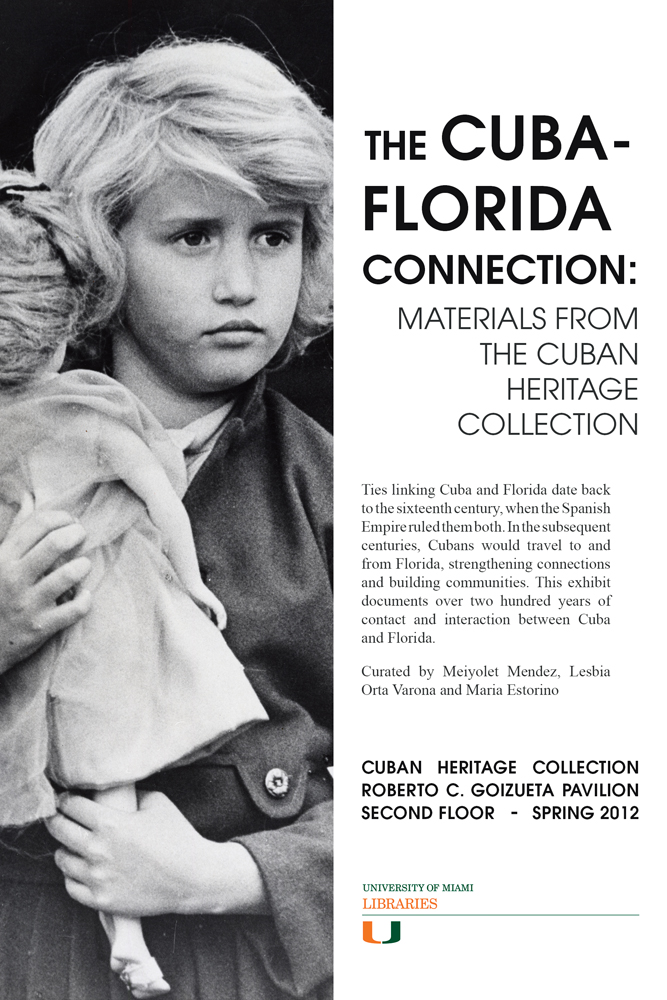 We invite you to visit us to view our latest exhibition, The Cuba-Florida Connection: Materials from the Cuban Heritage Collection. This exhibition is on display through June in the Roberto C. Goizueta Pavilion on the second floor of the Otto G. Richter Library.
This exhibit forms part of the Florida at the Crossroads: Five Hundred Years of Encounters, Conflicts, and Exchanges, a public conference organized by the University of Miami Center for the Humanities commemorating the five hundredth anniversary of the landing of Juan Ponce de León on Florida shores.

Learn more about this exhibit.