CHC Graduate Fellows Conference March 20 & 21 at UM

The Cuban Heritage Collection (CHC) at the University of Miami Libraries will host a multidisciplinary conference on March 20 and 21, 2014 to disseminate the work of past CHC Graduate Fellows and survey the current state of Cuban and Cuban American Studies.
The New Directions in Cuban Studies conference is free and open to the public. Registration is required. Visit the conference website for more information.
Friday, March 21, from 8:00 a.m. to 5:30 p.m. Panel discussions at the University of Miami Student Activities Center.

Register now »

Learn more about the conference »

Brothers to the Rescue Archive Donated to CHC

José Basulto, center, is surrounded (from left) by his son Felipe Basulto; Dean of Libraries Charles Eckman; CHC Chair María Estorino; UM Trustee and Amigos Board Member José Bared.
The University of Miami Libraries Cuban Heritage Collection recently acquired an archive documenting the activity of Brothers to the Rescue, an organization that carried out over 1,800 search-and-rescue missions between Cuba and the United States during the 1990s.
"The story of the Brothers will forever be part of the larger history that we all share," said Maria Estorino, chair of the Cuban Heritage Collection, speaking from a podium at The Roberto C. Goizueta Pavilion during a reception held January 9 to honor former members of the organization. Several volunteer pilots from Brothers to the Rescue, and some of their key supporters, attended the reception, which was sponsored by TD Bank, Bacardi USA, and the Amigos of the Cuban Heritage Collection. Continue reading »

Learn more about the Brothers to the Rescue Records »

Watch a video interview with José Basulto from the Luis J. Botifoll Oral History Project »

Now on Display: Gastón Baquero: Out of the Shadows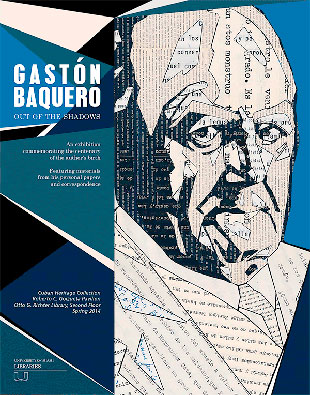 We invite you to visit the exhibition currently on display in the Roberto C. Goizueta Pavilion on the second floor of the University of Miami's Otto G. Richter Library. This exhibit commemorates the centenary of the author's birth, featuring materials from his personal papers and correspondence.
Stay tuned in the coming months for activities related to our spring exhibit. Follow CHC to keep in touch.

Learn more about the Gastón Baquero Papers, 1956-1999 »