Notes from the Preservation Lab: The Antonio Fernandez Reboiro Collection
Guest post by Scott Reinke, Preservation Librarian and Administrator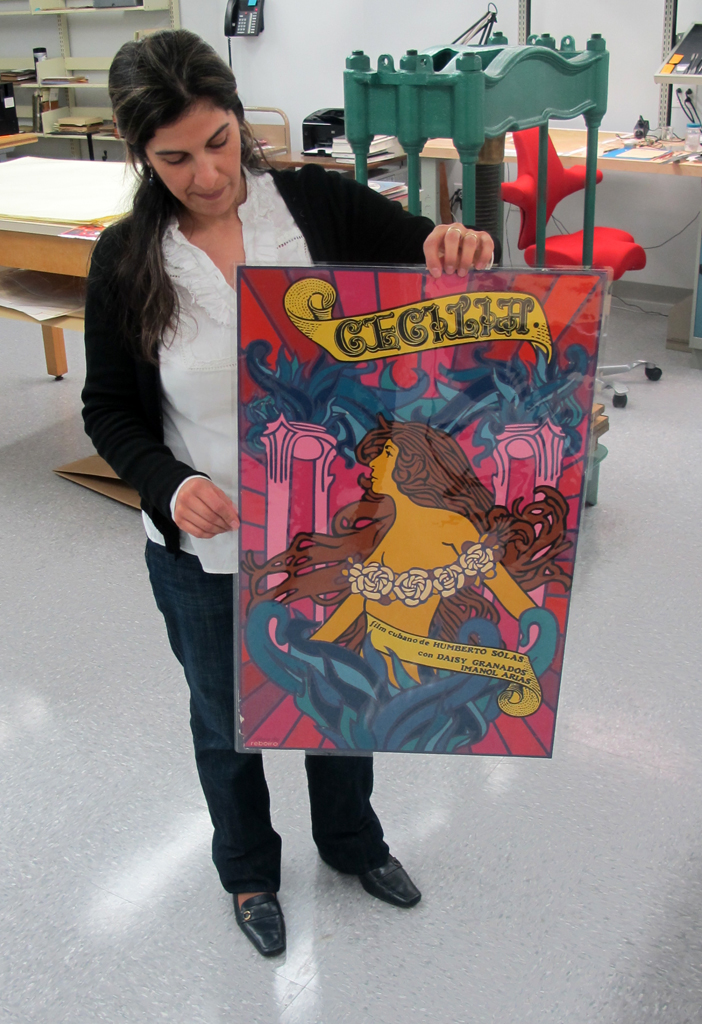 EDITOR'S NOTE: Antonio Fernández Reboiro (b. 1935) is a renowned Cuban graphic artist best known for the film posters he designed for ICAIC (Instituto Cubano de Arte e Industria Cinematográficos, or Cuban Institute of Cinematographic Arts and Industry). Created in 1959, ICAIC was charged with producing posters for all films made in Cuba and for foreign films shown in Cuba.
Reboiro, as he is best known, was born the son of Spanish immigrants in Nuevitas, Cuba in 1935. He studied architecture and design at the University of Havana and from 1964 worked as a poster designer for ICAIC. In 1975, he won the Grand Prix at the Poster Expo at the Cannes International Film Festival. Since 1982 he has lived in Spain, where he continues to work as a graphic artist in various media.
In 2004, we received from Dr. Samuel Yelin of Miami Beach a generous donation of 91 silkscreen posters, 91 offset posters, three giclée prints, and magazines, pamphlets, and other works designed by Reboiro. Dr. Yelin gave these posters in memory of Saúl Yelin, who established ICAIC's Film Poster section in 1964.
The 91 silkscreen posters are of special interest as they represent the bulk of Reboiro's production for ICAIC and include one poster by Eduardo Muñoz Bachs (1937-2001). They also presented us with the largest preservation challenge. When our Library established a preservation laboratory in 2010, we brought the Reboiro posters to the attention of our colleagues Scott Reinke, Preservation Librarian, and Duvy Argandoña, Preservation and Processing Specialist. What follows is a description of the work they undertook to repair and better preserve this beautiful and engaging collection of posters.

Read Scott Reinke's guest article on preserving the Reboiro posters.

Rare photo from the Tom Pohrt Photograph Collection shows historic Cuban lighthouse in its original design
Last year, we acquired and digitized the Tom Pohrt Photograph Collection, an invaluable collection of photographic images of Cuba in the 19th and 20th century. To accentuate this collection, we featured a guest article by the donor himself, where he reflects on the collection and his personal interests in collecting historical photographs from Cuba. We continue to highlight Mr. Pohrt's collection below by featuring one very special photograph of the Faro de Villanueva lighthouse in the Bay of Cienfuegos.
This article was written by Ana Rodriguez, CHC Metadata Assistant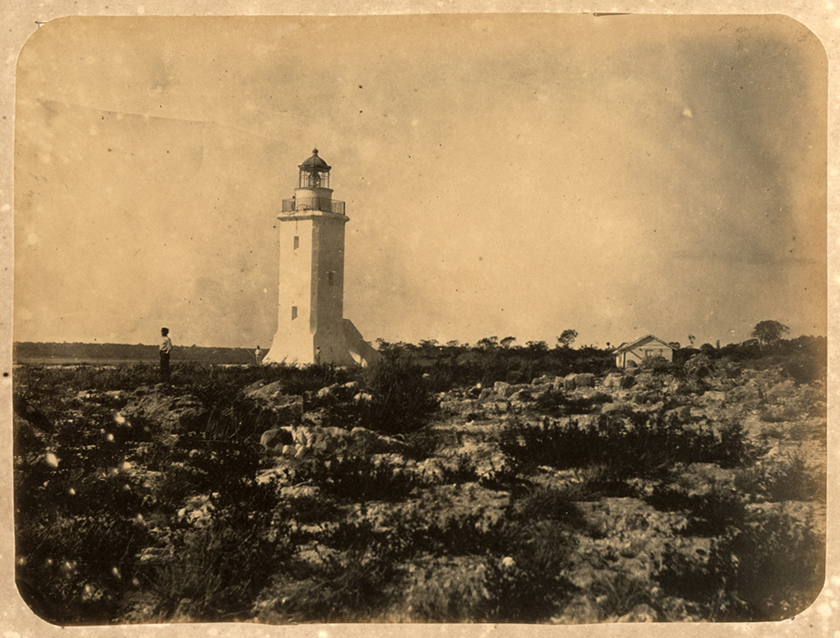 The Tom Pohrt Photograph Collection contains a series of albumen prints of Cuban lighthouses and views. Among these is a photo album of lighthouses and views of Cuba from the 1850s, presumed to be taken by the studio of C.D. Fredricks in Cuba. One of these photos which depicts the Faro de Villanueva lighthouse, located at Punta de los Colorados in the Bay of Cienfuegos. According to Spanish historian Miguel Angel Sánchez Terry in his Faros españoles de ultramar (link to IBISweb record), this lighthouse was commissioned in 1846, and Punta de los Colorados was selected for its construction due to the quality of the land which was formed by solid rock. On March 16, 1851 the newspaper Gaceta de La Habana announced the completion of its construction. A casa de mampostería (house made of bricks) was added to the lighthouse around 1866 and served as the residence for two torreros (lighthouse keepers) and their families.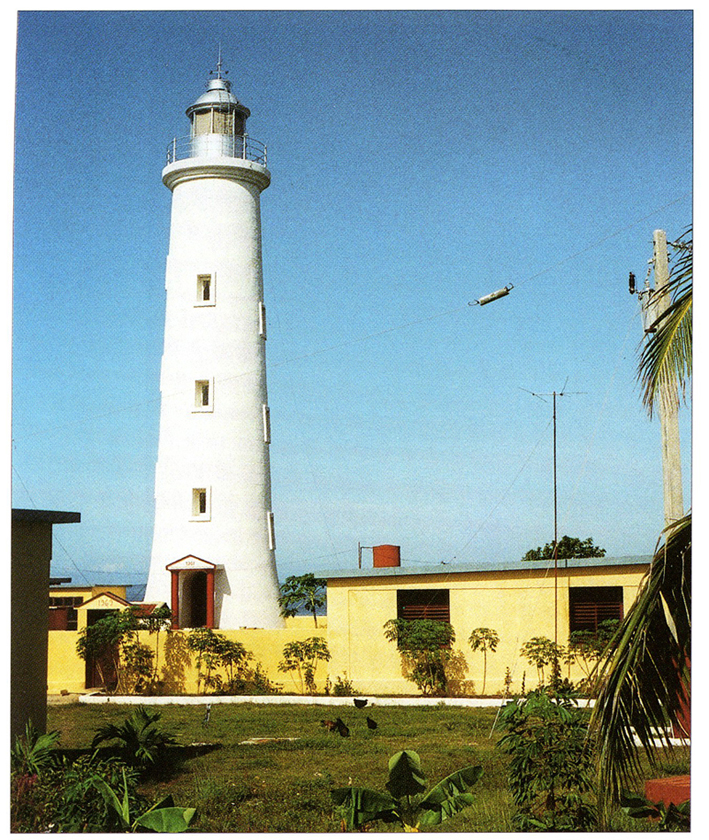 In the photo of the Faro de Villanueva, the lighthouse is shown to have an almost square structure, which was, at first, puzzling to me when I was creating the metadata; another photo that I found of this lighthouse, on a website created by the University of North Carolina at Chapel Hill titled "Lighthouses of Cuba" (link), shows the lighthouse having a circular shape. But as we learn from the blurb given on that page as well as Sánchez Terry, the square shaped lighthouse was torn down by the American vessels "Morehead" and "Winsdlow" on May 11, 1898, during the Spanish-American War.
Faro de Villanueva was later rebuilt, but instead of replicating the original square shape, it was given a circular shape. The new Faro de Villanueva tower was inaugurated in 1901, and according to Sánchez Terry, it has been renovated several times. The latest update dating to 1969, when electricity was incorporated to the tower. This photograph from the Tom Pohrt Photograph Collection, however, is believed to be one of the few taken of its original square design.

Learn more about the Faro de Villanueva.

CHC Chair Esperanza B. de Varona featured in Miami Herald article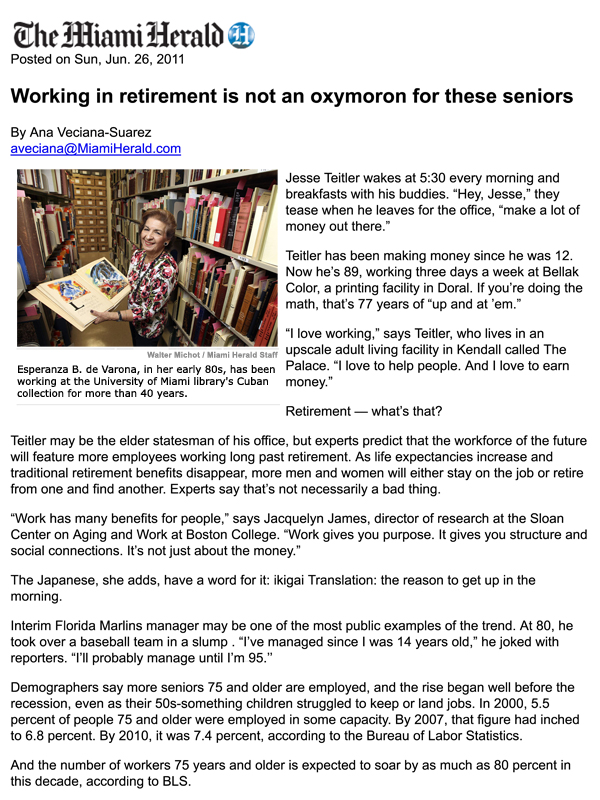 The Chair of the Cuban Heritage Collection, Esperanza B. de Varona was featured in Monday's issue of The Miami Herald in an article titled "Working in retirement is not an oxymoron for these seniors." The article, written by Ana Veciana-Suarez, details how employees 75 years and older are becoming more common in the workplace, and plan to continue working so as long as they stay healthy. For many, this is a result of their commitment and dedication to their work. The article features Mrs. de Varona in its final two paragraphs, where she is quoted as having "'an immense gratitude' for the opportunity to work with what she loves best - books."

Read "Working in retirement is not an oxymoron for these seniors"

Read this article in Spanish in El Nuevo Herald

Scholar Spotlight: Anita Casavantes-Bradford

Anita Casavantes-Bradford is a Ph.D. candidate in History at the University of California San Diego and was in residence at the Cuban Heritage Collection for three months in 2010 as a Graduate Fellow. Her research project is entitled "La Revolución—es Para los Niños? The Politics of Childhood in Miami and Havana, 1959-1962." In this project she examines the centrality of children and the symbol of the child to the transnational historical processes that predated and propelled the 1959 Cuban Revolution and the subsequent formation of the Miami Cuban exile community.
During two previous research trips to the Cuban Heritage Collection, Anita had already identified collections relevant to her dissertation and had begun initial exploration; this prompted her to apply for the fellowship. During the fellowship, she was able to complete a more comprehensive review of these collections and to identify additional sources of interest to my project. The collections she worked with include the records of the Cruzada Educativa Cubana, which provided key documents, news clippings and press releases related to this organization's work to promote Cuban culture and history through educational and leisure programs for exile children. She also worked intensively with the Cuban Refugee Center Records, which contained newsletters and other documents and photographs documenting this federally-funded program's work with exile children. Other collections included The Truth About Cuba Committee, Inc. Records, the Directorio Revolucionario Estudiantil Records, and the Vertical File Collection. Finally, she spent a significant amount of time analyzing two major publications, El Avance Criollo (exilio) and Patria, for the period between 1959 and 1962. Anita notes that "because of my project's emphasis on the role played by children in public discourse, the CHC collection of periodiquitos was essential to my work…The constant and highly visible presence of children in these newspaper's coverage of events in Cuba and in the exile community provided a wealth of texts and images that will play a prominent role in chapters six through eight of my dissertation, which focus on the emergence of the exile community in Miami between 1959 and 1962."
Her time as a CHC research fellow culminated in a presentation at the Graduate Fellows Colloquium, where she was able to introduce the broad contours of her research and share a number of the child-centered images and texts which she located at the CHC.
Anita has many plans and goals to build on the research that she conducted at the Cuban Heritage Collection. She will be completing and defending her dissertation in June 2011, and plans to expand her dissertation into a historical monograph for publication. This process will involve adding two additional chapters to the project, which will carry her analysis of the politics of childhood in the Miami exile community forward until 1965. In this, the collections at the CHC will continue to play a central role.

Learn more about Anita Casavantes-Bradford's research.

Watch Anita Casavantes-Bradford discuss her research and experience at CHC.