Cuban Heritage Collection Gets New Chair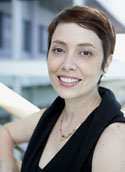 Maria R. Estorino has been appointed the Esperanza Bravo de Varona Chair of the Cuban Heritage Collection. Read more in the University of Miami's faculty and staff newsletter, e-Veritas »
Maria R. Estorino learned three important lessons from Esperanza Bravo de Varona, the longtime head of the University of Miami Libraries' Cuban Heritage Collection (CHC).
"The first is that being passionate about what you do makes for a more successful and rewarding career. The second is to be persistent, to have a goal and continually work towards it no matter what obstacles arise. And the third: to value relationships and the importance of person-to-person contact," Estorino explained.
A librarian associate professor who started working at the University of Miami Libraries in 2001, Estorino will now have the opportunity to apply those lessons on a new level. She has been appointed the Esperanza Bravo de Varona Chair of the CHC, succeeding the recently retired professor who established the collection and for whom the endowed chair is named. Continue reading »

2013-2014 Graduate Fellows Colloquia Summer Schedule: July
Join us this month for the next batch of colloquia listed below. All presentations will be held in the Elena Díaz-Versón Amos Conference Room at the Roberto C. Goizueta Pavilion in the Otto G. Richter Library. Refreshments will be provided. Please R.S.V.P. to 305-284-4900 or chc@miami.edu.
Wednesday, July 10 at 3:00 p.m. Domestic work in 20th century Cuba Anasa Hicks History, New York University
Wednesday, July 17 at 3:00 p.m. Regional Pressure Groups in Cuba: Rotary Clubs, Local Elites, and Conflicting Interests, 1916-1968 Maikel Fariñas Borrego History, University of North Carolina at Chapel Hill
Friday, July 19 at 3:00 p.m. Masculinities and Musical Culture in Havana 1940-1970 Cary García Yero History, University of Pittsburgh
Monday, July 22 at 3:00 p.m. Translocating Theatrical and Cuban Imaginaries: Virgilio Piñera's Electra Garrigó in Miami, 1978 Eric Mayer-García Theatre, Louisiana State University
Wednesday, July 31 at 3:00 p.m. Black Communication Networks between the early American republic and Cuba (1775-1833) Eric Herschthal History, Columbia University

Learn more about the CHC Graduate Fellowships »

CHC's Amigos welcome CABA to commemorate El Día del Abogado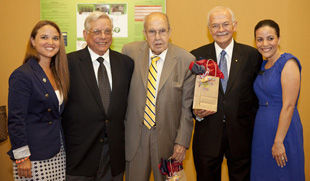 The event honored past presidents of CABA, including Mario Goderich, Osvaldo Soto, and Jose Villalobos, pictured here with Gina Beovides and current CABA president Sandra Ferrara.
The Cuban American Bar Association (CABA) and the Amigos of the Cuban Heritage Collection came together in the Goizueta Pavilion on June 6 to commemorate "El Día del Abogado," or Lawyer's Day, historically celebrated in Cuba on June 8. Co-sponsored by BB&T, the event honored past presidents of CABA, including Mario Goderich, Osvaldo Soto, and José Villalobos. For the occasion, we organized an exhibition that takes a historical look at the law and its practitioners in Cuba and exile. It will be on display through the summer.

View photos from the event »