2011 Graduate Fellows announced
We are happy to announce the 2011 CHC Graduate Fellows, generously funded by The Goizueta Foundation.
The Cuban Heritage Collection Graduate Fellowships provide assistance to graduate students who wish to use the research resources available in the Cuban Heritage Collection at the University of Miami. The goal of these Fellowships is to engage emerging scholars with the materials available in the Cuban Heritage Collection and thus contribute to the larger body of scholarship in Cuban, hemispheric, and international studies.
To learn about the research undertaken by the 2010 Graduate Fellows, click here. We have also highlighted the work of a number of our past fellows on this blog, which can be viewed using the Scholar Spotlight tag.
2011 Research Fellowships
Daylet Domínguez

Princeton University (Spanish) Etnografía, narración y proyectos nacionales en el Caribe insular hispánico, 1820-1920

João Gonçalves

University of Chicago (Anthropology) Martí versus Martí: Nationalism and Political Symbolism in Havana and Miami

Joseph Holbrook

Florida International University (History) Catholic Student Movements in Brazil and Cuba, 1946 to 1966

Rachel Hynson

University of North Carolina at Chapel Hill (History) Sexing the Cuban Revolution: Gender Difference and Sexuality as Tools of Nation-Making, 1959-1975

Jennifer Lambe

Yale University (History) Baptism by Fire: The Making and Remaking of Madness in Cuba, 1899-1980

Bonnie Lucero

University of North Carolina, Chapel Hill (History) Race, Nation, and Empire in Cuba: Race Relations amidst Imperial Transition, 1895-1906

Kristina Shull

University of California at Irvine (History) Nobody Wants These People: Reagan's Immigration Crisis and America's First Private Prisons
2011 Pre-Prospectus Fellowships
Sitela Alvarez

Tulane University (History) The Religious and Nationalist Transformation of Cuba: 1790-1860

Michael Bustamante

Yale University (History) Cuban Counterpoints: Memory Dialogues Across the Florida Straits, 1959-2009

Kelly Urban

University of Pittsburgh (History) Tuberculosis in Early Twentieth-Century Cuba: A Social History

Newly digitized: Cuban cookbook from 1857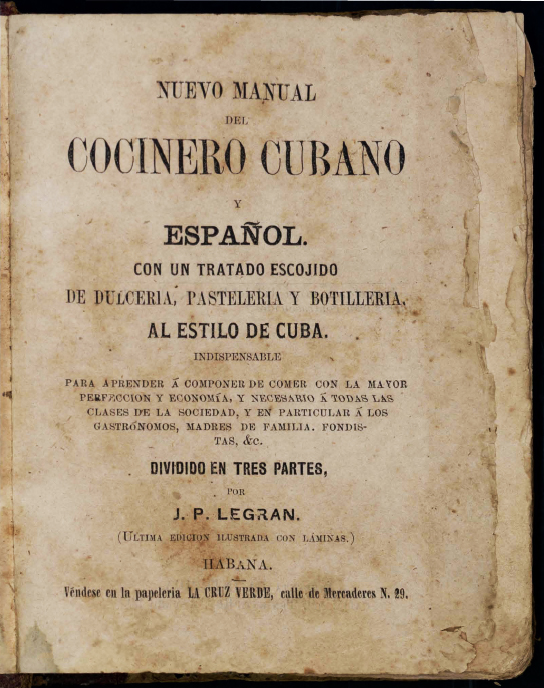 We just digitized a most interesting item for the CHC Books Digital Collection which is sure to delight both the intellect and taste buds: a 19th century cookbook for Cuban and Spanish cuisine. The title of this cookbook, which was published in Havana in 1857, is itself a mouthful: Nuevo manual del cocinero cubano y español: con un tratado escojido de dulcería, pastelería y botellería, al estilo de Cuba; indispensable para aprender a componer de comer con la mayor perfección y economía, y necesario a todas las clases de la la sociedad y en particular a los gastrónomos, madres de familia, fondistas &c. (translation: New manual of Cuban and Spanish cuisine: with a selected treatment of sweets, pastries, and drinks in the Cuban style; indispensable for learning how to prepare food with the highest perfection and economy, necessary for all social classes and in particular gastronomes, matriarchs, and restaurant patrons).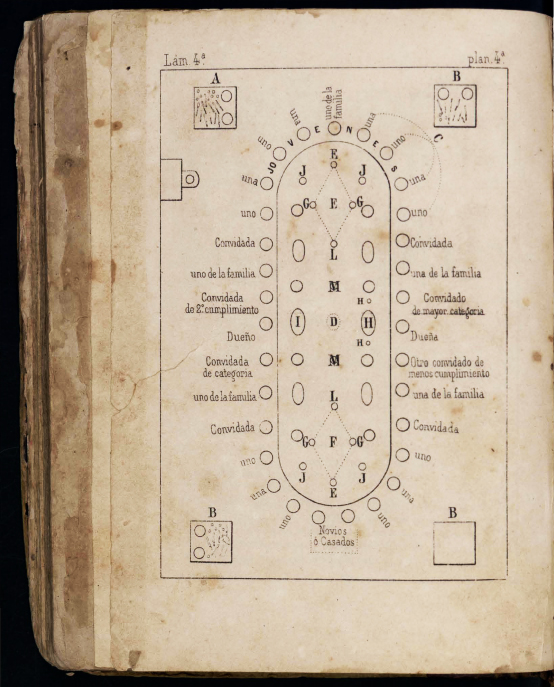 In the opening pages, the editors assure the reader that it is written both with experience and in a manner that is accessible to all, and that the recipes are sanctioned by good taste and by leading gastronomes on the island. The cookbook contains recipes for soups, casseroles, stews, legumes, frituras, sauces, seafood, desserts, and pastries. Also included is a guide to serving wines and liquor, an illustrated chart of different kitchen and table accessories, and a plan for seating the family and guests around the dining table (click here to enlarge image).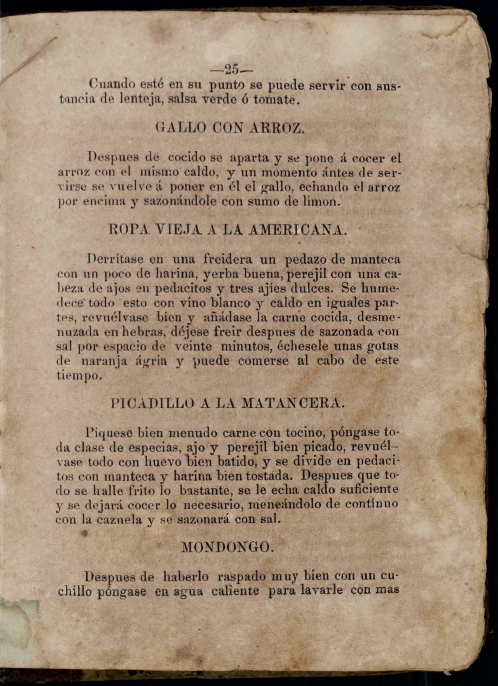 On the right, you can see the recipe for Ropa Vieja (literal translation: Old Clothes), a popular dish in Cuban cuisine (click here to enlarge image). Ropa Vieja consists of shredded flank steak in a tomato sauce base, and is usually accompanied by yellow rice, and plantains or fried yuca. The recipe reads: In a frying pan, melt a piece of butter together with a little flour, mint, parsley, a clove of garlic cut into small pieces, and three sweet peppers. Moisten with white wine and broth in equal parts. Stir well and add cooked meat, shredded into strands. Season with salt and leave frying for twenty minutes. After adding a few drops of sour orange, the dish is ready to be eaten. Interestingly, this is the only reference we could find where Ropa Vieja is described as a la Americana, or in an American style.This might be to distinguish the recipe from the Ropa Vieja that is prepared in the Canary Islands, where it originated. There, the dish is accompanied by chickpeas and potatoes.
¡Ay, que rico!

Click here to view this cookbook.

Click here to go directly to the cookbook's index of recipes.

Scholar Spotlight: Sharada Balachandran-Orihuela

Sharada Balachandran-Orihuela is a Ph.D. candidate in English at the University of California, Davis and was in residence in the Cuban Heritage Collection in the summer of 2010 as a Graduate Fellow. Her research project is entitled "From Flags to Freeways: Hemispheric Routes, Marginalized Economies, and Liberal Rights." Sharada conducted dissertation research at the Cuban Heritage Collection in order to complete her first chapter. Sharada primarily consulted the Edward Spalding Papers which contain documents about trade in the 19th century in the Americas. As she puts it, "I hoped that this archive would help me construct a relationship between the types of 'illegitimate' trade happening between the U.S. and Cuba, and the types of subjectivities emerging at the time." The Edward Spalding Papers contain the documents of Edward Spalding, a shipping agent based in Bristol, Rhode Island, but who also lived for extensive periods of time in Matanzas, Cuba. He engaged in transnational trade with several notable U.S. businessmen including James DeWolf, longtime U.S. senator and notorious slave trader. These papers reveal the multiple routes of exchange between the U.S., Cuba, Europe and Russia.
Along with researching the Spalding Papers and getting to work on her first dissertation chapter, Sharada benefited from interacting with the other CHC Fellows. She was able to bond and share research knowledge with several of the Fellows who were also in residence, and mentions that she may potentially work together on a project with Katerina Seligmann in the future. "There is a real sense of collaboration and comradery that the CHC creates just because you're in the same reading room every day," she observes. Sharada also cites the CHC Graduate Fellows Colloquium as being a productive experience. "I think it's really valuable for building an intellectual community, and with UM where there are so many faculty members working on Caribbean literature, it helps build a link between libraries and academic departments on campus; it brings faculty members into the library."

Learn more about Sharada Balachandran-Orihuela's research.

Watch Sharada Balachandran-Orihuela discuss her research and experience at CHC.