2013-2014 Graduate Fellows Colloquia Summer Schedule
This summer kicks off our next cycle of CHC Graduate Fellows presentations. Please join us this month for the colloquia listed below. All presentations will be held in the Elena Díaz-Versón Amos Conference Room at the Roberto C. Goizueta Pavilion in the Otto G. Richter Library. Refreshments will be provided. Please R.S.V.P. to 305-284-4900 or chc@miami.edu.
Wednesday, June 26 at 3:00 p.m. Intellectual and Cultural Politics in Cuba and Cuban Exile in the United States (1960-2000): the Map of the Cultural Journals Walfrido Dorta Sánchez Hispanic & Luso-Brazilian Literature & Language, City University of New York

Friday, June 28 at 3:00 p.m. The Colonial Modernity of the Spanish American literary criticism of the second half of the 18th century Kevin Sedeño-Guillén Hispanic Studies, University of Kentucky

Learn more about the CHC Graduate Fellowships »

CHC Lectures & Presentations available online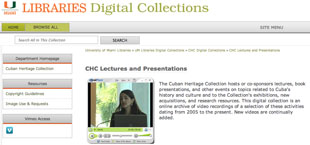 Not able to make it to CHC events this year? Our lectures and presentations are available online and can be accessed through the CHC's Vimeo channel or UM Digital Collections portal in the CHC Lectures & Presentations digital collection.
Recently uploaded are two presentations from the spring semester: a Q&A with Cuban blogger Yoani Sánchez and a lecture by Dr. Jalane Schmidt, Associate Professor of Religious Studies at the University of Virginia.

Watch videos on the CHC Vimeo channel »

Watch videos in the CHC Lectures & Presentations digital collection »

Doing research at the Cuban Heritage Collection
Are you planning a visit to the Cuban Heritage Collection? Before you come, here are some suggestions to help you make the most of your time with us.
Visit our website. There you will find information about our hours, collections, and search tools. You can also pre-register for a Research Account and submit requests for materials you want to use.
Get familiar with our Reading Room regulations. These are available on the "Planning Your Visit" page on our website and on the second page of our CHC Quick Guide. Reviewing these before you visit will help you know what to expect. For example, for security and preservation purposes, we only allow loose paper, pencils, and laptop computers at our Reading Room tables and provide lockers where you can store other personal belongings. And if you will be conducting research over several days, we will hold up to six volumes of books or periodicals and up to three boxes of manuscript collections for you.
Check out our Research Tips. We have compiled various tips for conducting research in a special collection like ours. While not all of these resources are specific to the Cuban Heritage Collection, you will find them useful in preparing for your time with us.
Let us know when you're coming. Send us an email or call us before your arrival date to request a visitor's pass. This will also give us a chance to review any requests you may have already placed and prepare them for when you arrive. Our Reading Room staff is ready to help orient you to our collections and services, but we encourage you to make an appointment with one of our librarians for a research consultation.
We look forward to seeing you soon. Please be in touch if you have any questions. We are here to help you.
Contact us

Email: chc@miami.edu

Phone: 305-284-4900

Esperanza Bravo de Varona and Lesbia Orta Varona honored on their retirement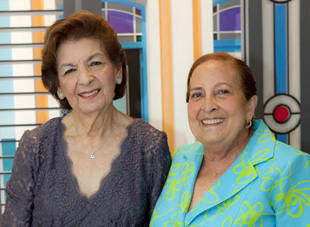 Esperanza B. de Varona and Lesbia Orta Varona were honored on several occasions last month in recognition of their retirements. Several events were held honoring these two women for their long dedicated careers at the University of Miami Libraries. Below are links to videos and photographs from these events.

Congresswoman Ros-Lehtinen commended Esperanza B. de Varona and Lesbia Orta Varona from the floor of the U.S. House of Representatives. Watch the video here »

Library faculty were honored at the University of Miami's Commencement ceremony on May 10. Watch the videos here »

UM Libraries held a reception in honor of Esperanza B. de Varona and Lesbia Orta Varona on May 14. View photos here »