2014-2015 CHC Graduate Fellows announced
Entering the fifth year of our graduate fellowships, we are happy to announce the 2014-2015 CHC Graduate Fellows. We launched the fellowships program in 2010 with generous funding from The Goizueta Foundation. This cycle's awards are made possible with the support of the Amigos of the Cuban Heritage Collection, the Ruston-Baker Educational Institution, and additional donors who have asked to remain anonymous.
The Cuban Heritage Collection Graduate Fellowships provide assistance to doctoral students in the U.S. who wish to use the research resources available in the Cuban Heritage Collection at the University of Miami Libraries. The goal of these Fellowships is to engage emerging scholars with the materials available in the Cuban Heritage Collection and thus contribute to the larger body of scholarship in Cuban, hemispheric, and international studies.
The 2014-2015 Arts in the Cuban Republic Fellowships awards will be announced later this month.
For more information about fellowship opportunities to study at the Cuban Heritage Collection, click here.
Graduate Research Fellows
Alexander Eastman Washington University in St. Louis (Romance Languages & Literatures) Binding Freedom: Cuba's Black Public Sphere, 1868-1912
Zeila Frade Florida International University (Modern Languages) Children's Literature, Ideology and Cultural Identity Before and After the Cuban Revolution
Ann Halbert-Brooks University of North Carolina at Chapel Hill (History) Teaching the Revolution: Growing the Cuban Culture of Education, 1959
Eric Mayer-Garcia Louisiana State University (Theatre) Cuban Avant-Garde Theatre in the United States: 1978-1991
Jeanine Navarrete University of North Carolina at Chapel Hill (History) "See it like a native": Race and the Politics of Latino Immigration to Miami, 1965-1980
Raquel Otheguy SUNY Stony Brook (History) Education in Empire, Nation, and Diaspora: Afro-Cubans from 1878 to 1920
Graduate Pre-Prospectus Fellows
Francisca Aguilo Mora University of Miami (Modern Languages & Literatures) Multilingual Voices in el Gran Caribe: The Inscription of a New Language That Talks a New Usanocaribeña Spatiality
Oscar Amaya Georgetown University (Spanish & Portuguese) Interdisciplinary Dialogue in Lydia Cabrera and Wifredo Lam's Afro-Cuban Collaborations
Sarah Becker University of Houston (Hispanic Studies) Yemayá and Ochún, or the Literary Tradition of the Feminine Orishas: The Feminist-Queer Ethnography of Lydia Cabrera
Fernanda Bretones Lane Vanderbilt University (History) Cuba and the Caribbean in the Age of Revolutions
Kaitlyn Henderson Tulane University (History) The Gospel of José Martí: Cuban Racial Discourse in the Twentieth Century

Undergraduate Scholars Symposium co-hosted by CHC & CLAS on April 16
Join us on Wednesday, April 16th from 9:00 a.m. to 5:00 p.m. as the 2014 CHC Undergraduate Scholars present and discuss their work during a daylong symposium. The event highlights the work that has resulted from the student's research at the Cuban Heritage Collection during the 2013-2014 academic year.
The symposium will take place in CHC's Elena Díaz Versón Conference Room in the Roberto C. Goizueta Pavilion on the second floor of the Otto G. Richter Library.
The Undergraduate Scholars Program is administered by the Cuban Heritage Collection in collaboration with the Center for Latin American Studies (CLAS) with funding from The Goizueta Foundation. Learn more »

Please RSVP to chc@miami.edu.

Cuba's Past and Present Explored at New Directions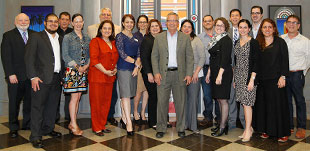 Presenters and discussants at "New Directions in Cuban Studies" conference at the Roberto C. Goizueta Pavilion.
A pioneering conference drew an audience of more than one hundred to the Cuban Heritage Collection, where they learned about emerging scholars' research and explored new insights in Cuban and transnational studies. World-renowned Cuban Studies scholar Louis A. Pérez, Jr. delivered the conference's keynote lecture.
"New ways of seeing meant new ways of seeing oneself, and created new ways of being," said Pérez at the March 20 opening reception for "New Directions in Cuban Studies." He set the tone for the following day's program discussing some of his latest research about the formation of a unique Cuban identity during the nineteenth century. Pérez explained how researchers are developing a fuller understanding of historical periods as they home in on the daily experience of a people and reflective cultural attitudes. Continue reading »

Learn more about CHC Fellowships »

Exhibition Features Original Works of Gastón Baquero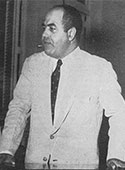 This month we commemorate one hundred years since the birth of Cuban literary great Gastón Baquero with Out of the Shadows, an exhibition featuring a collection of the author's personal papers. Currently on display through June, the exhibition includes manuscripts, photographs, and private correspondence, which together provide insight into Gastón Baquero's life during a span of forty years that he spent in exile from the island. Continue reading »

Learn more about the Gastón Baquero Papers, 1956-1999 »
Photograph of Gastón Baquero from "Aniversario del 'Club Atenas' en el Centenario de Juan G. Gómez." Revista Atenas. Oct. 1954

Avellaneda on her 200th Anniversary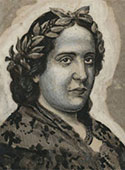 This year marks the bicentenary of the birth of acclaimed Cuban poet Gertrudis Gómez de Avellaneda (1814-1873). To commemorate the occasion, we have digitized her anti-slavery novel Sab, first published in 1841 in Spain. To see additional material from our collections, please visit our Avellaneda digital exhibit.
http://library.miami.edu/chc/avellaneda/