2014-2015 Research Colloquia Summer Schedule
In June we kick off the 2014-2015 CHC Research Colloquia. Graduate Fellows, Arts in the Cuban Republic Fellows, and other scholars will present on their research in the Cuban Heritage Collection. Join us for these presentations in the Elena Díaz Versón Amos Conference Room of the Roberto C. Goizueta Pavilion at the University of Miami's Otto G. Richter Library. Colloquia are scheduled for 3 p.m. unless otherwise noted. RSVP to 305-284-4900 or chc@miami.edu.
Tuesday, June 17 at 2:30 p.m. Stephanie Panichelli-Batalla, Ph.D., Aston University, Great Britain (CHC Visiting Fellow) Life stories of Cuban internationalist health professionals
Tuesday, June 24 Ann Halbert Brooks, University of North Carolina at Chapel Hill (CHC Graduate Fellow) Teaching the Revolution: Growing the Cuban Culture of Education, 1959
Thursday, June 26 Elizabeth Cerejido, University of Florida (CHC Institutional Fellow) Creating a Cuban Art Archive at the CHC: Current Holdings and Future Directions
Tuesday, July 1 Oscar Amaya, Georgetown University (CHC Graduate Fellow) Interdisciplinary Dialogue in Lydia Cabrera and Wifredo Lam's Afro-Cuban Collaboration
Tuesday, July 8 Fernanda Bretones Lane, Vanderbilt University (CHC Graduate Fellow) Cuba and the Caribbean in the Age of Revolutions
Thursday, July 24 Kaitlyn Henderson, Tulane University (CHC Graduate Fellow) The Gospel of José Martí: Cuban Racial Discourse in the Twentieth Century
Thursday, July 31 Alexander Eastman, Washington University in St. Louis (CHC Graduate Fellow) Binding Freedom: Cuba's Black Public Sphere, 1868-1912

2014-2015 Arts in the Cuban Republic Fellowships Awards
With the support of a generous donor, the Cuban Heritage Collection is able to offer for the first time a fellowship award for projects about the arts in Cuba between 1933 and 1958, including but not limited to visual arts, music, theater, dance, and architecture. Graduate students, postdoctoral and tenured scholars, and independent scholars working towards publication or comparable product are eligible for this award.
The 2014-2015 Arts in the Cuban Republic Fellows are:
Yesenia Fernández Selier Ambassadors of Cuban Dance in the 1930s: The Repercussions of Rumba Craze in Cuba
Ernesto Hernández Busto The Orígenes Generation and Cuban Art during the Republic
For more information about fellowship opportunities to study at the Cuban Heritage Collection, click here.

In Search of Freedom: Cuban Exiles and the Cuban Refugee Program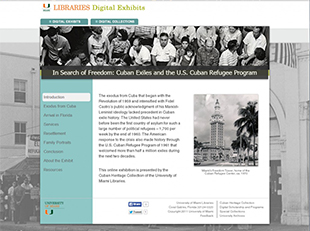 CHC and University of Miami Libraries Digital Collections have launched In Search of Freedom, a digital exhibit with forty-two photographs and publications illustrating the early years of the Cuban Refugee Program. Items were selected from Cuban Refugee Center Records, a large and significant CHC collection described in this Finding Aid. Continue reading »

Cuba Then with Ramiro Fernández and Richard Blanco

On May 6, the Amigos of the Cuban Heritage Collection hosted a reception at Books & Books for the presentation of Cuba Then, a book of rare and vintage images of Cuba from the collection of Ramiro A. Fernández with poetry by Richard Blanco.
Ramiro is a longtime donor to CHC of almost 900 items including photographs, postcards, posters, and books. We have digitized over 400 of his photographs: http://merrick.library.miami.edu/cubanHeritage/chc5260/.

View images from the event on CHC's Facebook »

Students Bring Award-Winning Research to Roundtable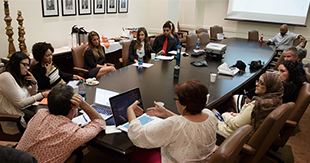 University of Miami faculty and students and Cuban studies scholars gathered at CHC in April for the third annual Undergraduate Scholars Symposium, a roundtable of topics on Cuba and its diaspora. Front and center were thirteen participants in the Undergraduate Scholars Program presenting their research papers, many of the works having already turned heads earlier that month. The Symposium was presented by CHC and the Center for Latin American Studies with support from The Goizueta Foundation. Continue Reading »

Cuba's Own "Mad Man" Featured in Miami Magazine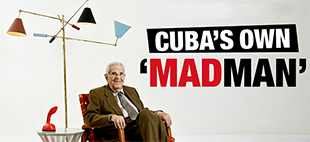 The Spring 2014 issue of University of Miami's Miami magazine features Ricardo Arregui, co-founder of one of Cuba's top ad agencies, Fergo-Arregui Advertising.
"Have I ever shown my dad any episodes of Mad Men?" Richard Arregui, B.S. '85, muses with an incredulous laugh. "He lived it. Once was enough!" Indeed, vintage photographs of Richard's father, Ricardo Arregui, instantly conjure the sharp-suited corporate advertising world of the '50s and '60s as portrayed by the popular AMC television series—albeit transported to Havana. It was in that city where Ricardo Arregui co-founded Fergo-Arregui Advertising. One of Cuba's top ad agencies, it billed more than $18 million at its 1958 height ($143 million in today's dollars). Continue reading the article »
Mr. Arregui's career is documented in an archive, the Ricardo Arregui Papers. You can also watch this video interview with Mr. Arregui, conducted in 2012 as part of the Luis J. Botifoll Oral History Project.