CLAS-CHC Undergraduate Scholars present at annual symposium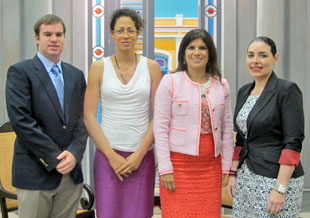 The second Cuban Heritage Collection-Center for Latin American Studies Undergraduate Scholars Symposium showcased the work of Scholars Thomas Terrill and Elaine Penagos, both of whom worked with Dr. Michelle Maldonado, Associate Professor at the University of Miami's Department of Religious Studies. During the course of their research at the Collection, Tom and Elaine had the opportunity to consult primary and secondary sources such as early 20th century magazines, revolutionary newspapers, books, and archival material from the Lydia Cabrera Papers.
Later that evening, a group of environmental engineering students mentored by Dr. Helena Solo-Gabriele, Professor & Associate Dean for Research in the University of Miami's College of Engineering, presented at another symposium hosted at the College of Engineering. The project, titled "Biohydrogen as an Alternative Energy Source for Cuba," was completed by Melissa Barona, Margarita Giraldo and Seth Marini. The group plans to continue presenting on this topic at future engineering presentations and competitions. Continue reading »

CLAS-CHC Undergraduate Scholars win awards at Undergraduate Research, Creativity, Innovation Forum »

Learn more about faculty grants in support of undergraduate research at CHC »

Learn more about research past Scholars have undertaken »

Donor Stories: Ruston Academy alumni reunite at CHC, browse collection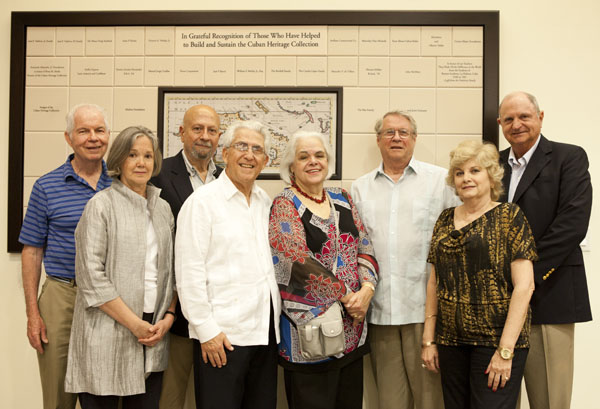 Last month, a group of alumni from Ruston Academy reunited at the Roberto C. Goizueta Pavilion. While here, the group took a quick tour of our holdings after having the opportunity to browse through a selection of materials from the Ruston Academy Records, 1928-2012. This collection, which we began acquiring in 2009 from Chris Baker, President of the Ruston-Baker Educational Institution, contains materials related to Ruston Academy, a bilingual American school founded in Havana, Cuba, in 1920.
With the support of alumnus Arturo Gutiérrez and his family, the Ruston-Baker Educational Institution, Inc. recently made a donation of $10,000 to support CHC educational programs at CHC like the CHC Graduate Fellowships. During their visit, the alumni celebrated the donation with the unveiling of their tile on our donor wall. Continue reading »

CHC to hold reception for 58th annual SALALM meeting
On May 20th, 2013, the University of Miami Libraries and Florida International University Libraries will hold a reception at the Cuban Heritage Collection to welcome the 58th meeting of the Seminar on the Acquisition of Latin American Library Materials (SALALM). This organization, which held its first meeting in 1956, brings together academic librarians and international booksellers to discuss issues related to the acquisition and cataloging of Latin American and Caribbean printed materials.

Learn more about the 58th Annual SALALM Conference »

CHC hiring students for summer, fall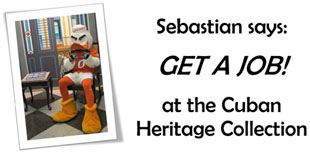 We have several jobs available for full-time University of Miami students who are bilingual in English and Spanish and can work at least 10 hours a week.
Student Assistants (several openings) CHC Student Assistants work in collections processing, research services, clerical support, and special projects such as exhibitions and digital collections.

Web Assistant CHC Web Assistant works with the CHC Web Communications Technician to manage the CHC website, blog, social media and miscellaneous communications tasks.

Video Editing Assistant CHC Video Editing Assistant will work with our new Human Rights Oral History Project and, as necessary, the Botifoll Oral History Project, as well as other miscellaneous projects at CHC.
Interested? Contact Annie Sansone at 305-284-5854 or chc@miami.edu to apply.