Amigos gift membership offer

Looking for a unique holiday gift idea? If you join or renew your membership with the Amigos of the Cuban Heritage Collection with a gift of $100 or more by December 2, 2013, we will send a gift membership to the individual of your choice.
All membership levels include invitations to Amigos and Cuban Heritage Collection events, 10% off items from the CHC gift shop and access to the Otto G. Richter Library. Members at the $250 level or more also get Library borrowing privileges and additional benefits. Join or renew now »

CHC Graduate Fellows Colloquia
Friday, November 15, at 12:30 p.m. Tracing Origins of Mariel: Reexamination of the Bernardo Benes and Mirta Ojito Collections, by Hideaki Kami, a doctoral candidate in History at Ohio State University and a 2013-2014 CHC Research Fellow./p>

Friday, November 22, at 12:30 p.m. Embodied Communiqués: Cuban Dance on the Island and in the Diaspora, 1950s - 1980, by Elizabeth Schwall, a doctoral candidate in History at Columbia University and a 2013-2014 CHC Research Fellow.
All presentations will be held in the Elena Díaz-Versón Amos Conference Room, Roberto C. Goizueta Pavilion, Otto G. Richter Library, 2nd Floor, University of Miami, Coral Gables, Florida. Light lunch will be served. RSVP required: 305-284-4900 or chc@miami.edu.

Meet the Staff: Meiyolet Méndez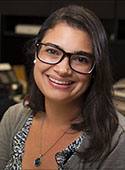 The Cuban Heritage Collection recently welcomed Meiyolet Méndez as the newest addition to its team. Mei officially began as the CHC librarian on September 1, but her seven-year career with the University of Miami Libraries had already made her a familiar face. Her experience with acquisitions, collection management, exhibit coordination, and instruction makes her a welcome and valuable faculty member.
Born in Cuba, Mei came to the United States when she was 14 years old. She completed her undergraduate studies at FIU and went on to pursue a Master of Library Science at the University of Alabama in Tuscaloosa. She joined the UM Libraries soon after graduating in 2006 and began working as an education and outreach librarian. Children's literature has long been one of Mei's interests, and in 2007 she approached the Collection with the interest in organizing an exhibition on the topic.
In 2009, Mei became the subject and instruction librarian for History and Latin American Studies at the UM Libraries. In this role, she frequently worked with CHC research fellows, helping them find materials and flesh out their courses of study. She partnered with CHC to teach classes and coordinate exhibitions. Continue reading »

Cuban memories: 25 Years of the Miami Symphony Orchestra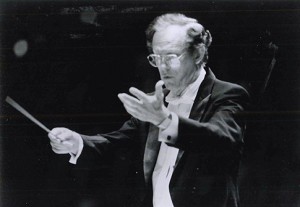 Cuban maestro Manuel Ochoa conducts The Miami Symphony Orchestra, which he founded in 1989.
Last month marked the opening of The Miami Symphony Orchestra's 25th season. The Cuban Heritage Collection holds the papers of the Orchestra's founder, Cuban-born conductor Manuel Ochoa (1925-2006).
Manuel Ochoa was among the first of Miami's Cuban exile artists to see the creative opportunities that the city could offer as the gateway to the Americas. Ochoa co-founded the Sociedad Hispanoamericana de Arte (Hispanic American Society for the Arts) in the 1970s, and his vision would finally become a reality in 1989 when he established a truly multicultural arts organization, The Miami Symphony Orchestra. Manuel Ochoa passed away in 2006, but his musical legacy survives in the ongoing work of the Orchestra, and his everlasting mark on Miami's cultural fabric.
In 1996, WLRN's TV program Huellas interviewed Maestro Ochoa. He spoke in depth about music, his career, and the culture of his adopted city. A copy of this interview can be found online and on DVD in the Manuel Ochoa Papers. Continue reading »

Learn more about the Manuel Ochoa Papers »

Learn more about the Orchestra's upcoming events »