Newsletter | November 2014
IN THIS ISSUE
| | | | | | | | | |
| --- | --- | --- | --- | --- | --- | --- | --- | --- |
| | | Amigos Honors Ruston Academy Alumni with Henry King Stanford Award | | | December Events | | | 2015-2016 CHC Fellowships Call for Applications |
| | | | | | | | | |
| --- | --- | --- | --- | --- | --- | --- | --- | --- |
| | | Fragmentos: Revista Mensual Now Available Online | | | CHC Recommends: "Cuba: From Columbus to Castro" DVD | | | Holiday Hours |
Amigos Honors Ruston Academy Alumni with Henry King Stanford Award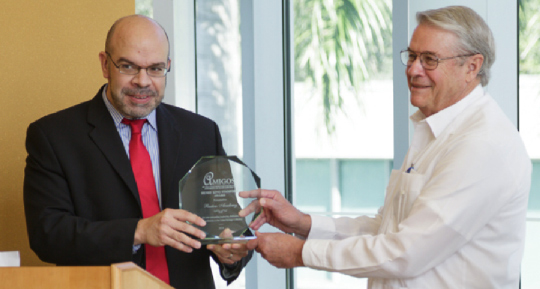 | | | |
| --- | --- | --- |
| | Amigos Chair Aldo Leiva and Chris Baker, of the Ruston-Baker Educational Institution, during the presentation of the 2014 Henry King Stanford Award at the Roberto C. Goizueta Pavilion. | |
The Amigos of the Cuban Heritage Collection recently presented the 2014 Henry King Stanford Award to a group of Ruston Academy alumni, who two years ago established an archive for their school at CHC. The Ruston Academy is now the eighth recipient of the Stanford award, named after the University's third president and first chair of the Amigos.

(Continue Reading →)
2015-2016 CHC Fellowships Call for Applications

The Cuban Heritage Collection invites applications for the 2015-2016 CHC Fellowships in support of individual research by graduate students and scholars who wish to use the research resources available in the Collection. Awards are made in two categories: (Learn More →)

CHC Graduate Fellowships
CHC Arts in the Cuban Republic Fellowships
Fragmentos: Revista Mensual Now Available Online

Last year, the Cuban Heritage Collection received several volumes of the Cuban Jewish periodical Fragmentos: Revista Mensual through the generosity of Mr. Moisés Pitchón, whose father, Marco Pitchón, was the editor of the magazine. The Collection's holdings of this work range from Volume 4 (January 1955) to Volume 11 (July/September 1964). With permission from Mr. Pitchón, these issues have been digitized and are available in our digital library. (Continue Reading →)
CHC recommends: "Cuba: From Columbus to Castro" DVD

The University of Miami's Institute for Cuban and Cuban-American Studies (ICCAS) has produced an English-language documentary titled "Cuba: From Columbus to Castro." Using archival footage and photos, the 26-minute film offers a panorama of Cuban history for a general audience narrated by retired professor Frank Rodríguez. The DVD is available for purchase for $20.00 by calling ICCAS at 305-284-2822 or emailing iccas@miami.edu.
Holiday Hours

CHC will be closed for Thanksgiving on Thursday and Friday, November 27 and 28, and from Wednesday, December 24 to Friday, January 2, for the winter holidays.