Selected photographs and original daiquiri recipe from the Carmen Puig Papers now available online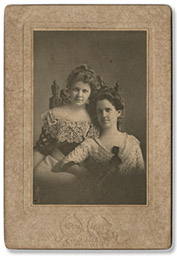 The Carmen Puig Papers primarily document Puig's family ties to Jennings Cox, Puig's step-grandfather and the American credited with inventing the daiquiri cocktail. Cox was an engineer with Bethlehem Iron Works in charge of mines in Daiquirí, a town in Cuba's southeast region. Cox reportedly invented the famous daiquiri cocktail in 1898 by mixing together white Bacardi rum, mineral water, sugar, lemon juice, and crushed ice.
From this collection, selected photographs and the original daiquiri recipe are digitized and available online. Of note are photographs of Santiago de Cuba after an earthquake in 1932. Visit the digital collection »

Cuban Memories: 80 years ago, student demonstration against Machado results in death of student leader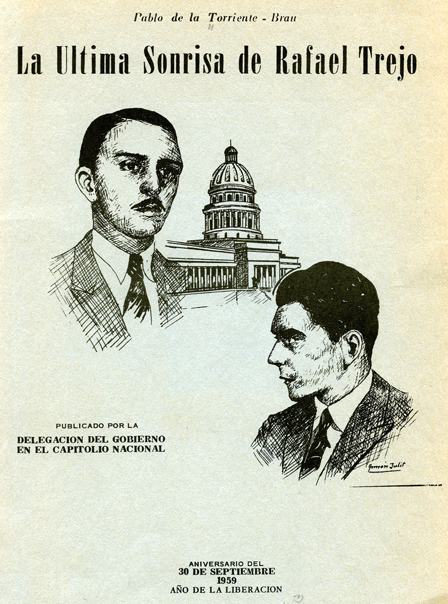 On September 30, 1930 the University Student Directorate (DEU) of the University of Havana called for a planned demonstration aimed at protesting the perceived despotism of president Gerardo Machado y Morales. This protest signaled the beginning of student involvement in the struggle against Machado, who was overthrown three years later. Tipped about the protest in advance, police blocked the streets around the University of Havana and confronted the students. The crackdown by the police resulted in arrests and several students being wounded. Among the wounded were the student leaders Pablo de la Torriente-Brau, a journalist who wrote for the Mexican newspaper El Machete and later died fighting against Franco in the Spanish Civil War in 1936, and Rafael Trejo, who was fatally wounded and later held up to be a martyr and hero by the Castro regime.
To commemorate the death of Rafael Trejo, Pablo de la Torriente-Brau wrote La última sonrisa de Rafael Trejo (The Last Smile of Rafael Trejo), which was originally published by the University of Havana periodical Alma Mater in 1956. After the Cuban Revolution, however, the new regime was eager to create a canon of important figures leading up to the 1959 revolution that could be celebrated, and republished this brief article by Torriente-Brau on September 30, 1959. We own a copy of this 1959 reissue, and scanned several of the illustrations found in this publication. Learn more »

October 7th: Lily Prellezo presents "SEAGULL ONE: The Amazing True Story of Brothers to the Rescue"
The Institute for Cuban and Cuban-American Studies invites you to a book presentation by Lilly Prellezo. Seagull One presents the never-before-told story of the men and women of nineteen nationalities who came together to fly over the Florida Straits to search for balseros escaping Communist Cuba. They called themselves Brothers to the Rescue (BTTR). "Seagull One" refers to Jose Basulto, president of the organization, whose radio call name and aircraft, a twin-engine Cessna, go by the same name. BTTR saved more than 4,000 lives of people they would seldom, if ever, meet, to prove once again that we are our brother's keeper. Before they discovered spies had infiltrated the Brotherhood, two planes were shot down over international waters on February 24, 1996, killing four men. In a fast-paced narrative, Seagull One tells the story of how this organization developed by introducing the reader to its everyday heroes. It also explores just who knew what about the shoot down, both in Cuba and in the United States. For more information, see www.seagullone.com.
Date: Thursday, October 7, 2010. Reception at 6:00 p.m., presentation at 7:00 p.m.
Where: Casa Bacardi, Institute for Cuban and Cuban-American Studies. University of Miami, 1531 Brescia Avenue, Coral Gables, F
RSVP: Institute for Cuban and Cuban-American Studies. (305)-284-CUBA (2822). Capacity is limited to 115 persons.

October 21st:
Amigos

Annual Membership Meeting

The Amigos of the Cuban Heritage Collection will be having their annual membership meeting on October 21st at the Elena Díaz Versón Amos Conference Room in the Roberto C. Goizueta Pavilion. The meeting is scheduled to start at 6:00 p.m.