Notes from the Conservation Lab: preserving a one-of-a-kind silk scarf
Guest post by Scott Reinke, Preservation Administrator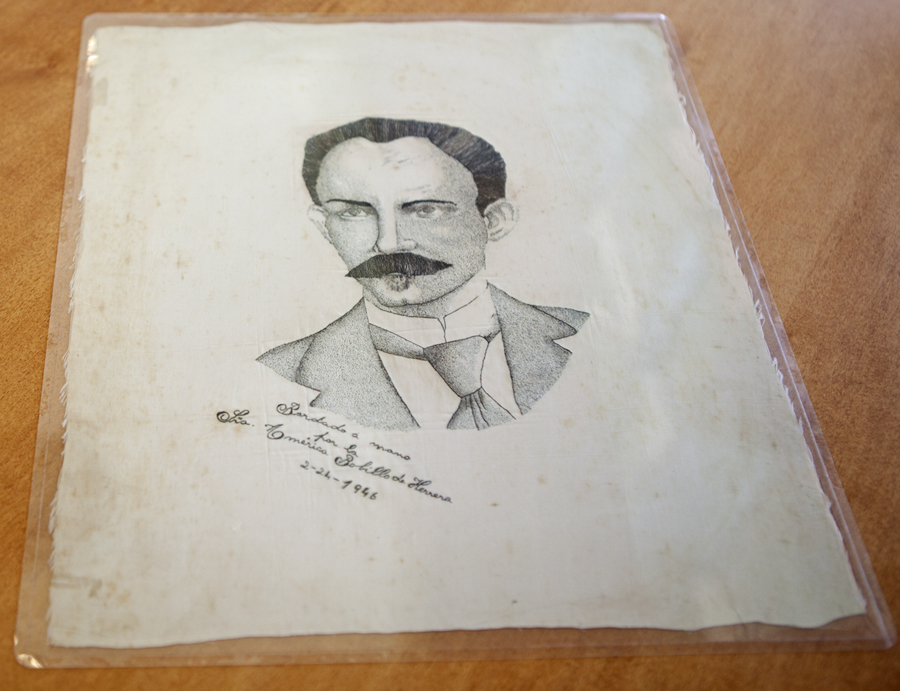 I am amazed at the variety of unique materials that are housed in the Cuban Heritage Collection. We recently treated a one-of-a-kind silk scarf decorated with a portrait of José Martí. At first glance, the white silk scarf appeared to have an intricate drawing on it, but upon closer observation, the portrait was actually stitched into the delicate fabric using fine silk threads. The level of skill required to execute this work of art truly astounded me.
The scarf first arrived in the conservation lab stored folded in an archival file folder with creases in the fabric. Conservation Assistant Duvy Argandoña and I discussed our course of action before she began the treatment process. We are not textile conservators and so, for example, would not be able to address the visible brown spots on the fabric, known as foxing. But we did want to complete a conservation treatment that would allow for improved storage and accessibility of this beautiful scarf over the long term.

Read more Notes from the Conservation Lab posts »
Voices of the Diaspora: Andrés Fleitas
By Fernando Espino, CHC Student Assistant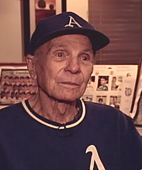 The pride of Havana - that's how Cubans refer to baseball, their popularly adopted national sport. No Cuban childhood is complete without long, hot afternoons spent with a bat and a glove in hand. Before the revolution, the Cuban League was one of the oldest, most popular professional baseball leagues outside the United States. It was a hotbed of recruiting for Major League Baseball teams and gave local Cuban peloteros a chance to show off their stuff.
Among those peloteros was Andrés Fleitas (1918-2011), a legend of the Cuban Winter Leagues whose career took him from his native Havana to the United States, Mexico, and beyond. Like many Cuban boys, Fleitas was playing baseball since he was old enough to hold a bat. He played many positions throughout his career, but as he put it, he always loved hitting more than anything else. Fleitas got his start in local amateur leagues in 1939, before moving on to play for the Almendares Blues, a Cuban Professional League team based in Havana with an intense rivalry with their neighbors, El Club Havana. Continue reading »
Andrés Fleitas was interviewed as part of the Luis J. Botifoll Oral History Project in Miami, FL on June 29, 2011.

To learn more, watch Mr. Fleitas tell his life story »

About the Luis J. Botifoll Oral History Project »
Celebrating the Jewish-Cuban experience
By Amanda Moreno, CHC Processing Assistant and Fernando Espino, CHC Student Assistant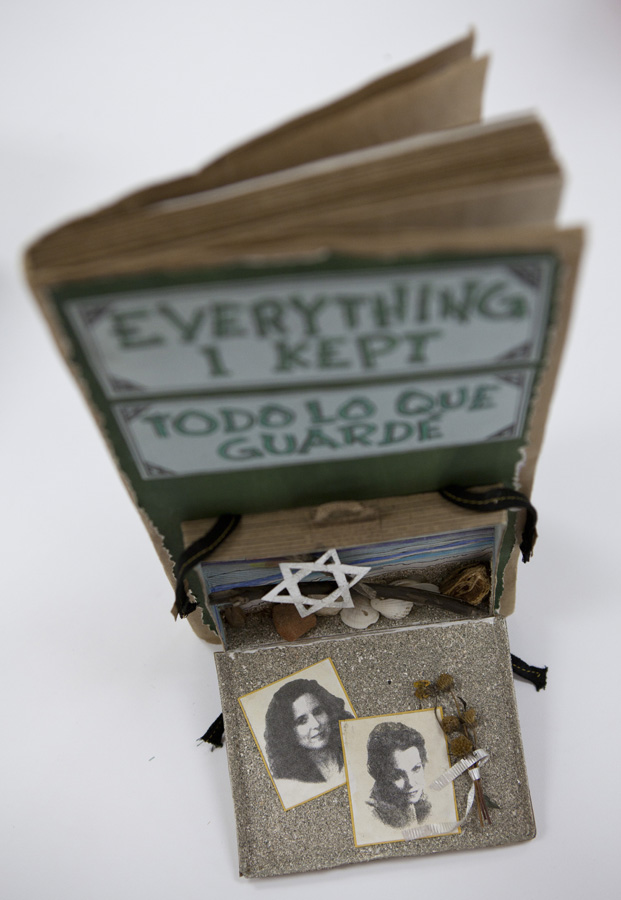 As our Jewish friends observed the High Holy Days last month, we wish to recognize this special time in the Jewish faith by highlighting materials from our archive relating to the Jewish experience in Cuba.
The Jewish community in Cuba traces its history back centuries, stretching as far as the first voyage of Christopher Columbus. Popular legend states that three Jewish sailors were among Columbus's crew, including Rodrigo de Triana, the first man to spot land on the North American continent. During the colonial period, many Spaniards of Jewish descent migrated to the island. In the late 19th century and through the 20th century, a number of Jews from Eastern Europe and the Middle East came to Cuba and established a permanent presence. In 1906, a group of Cuban Jews founded the island's first synagogue, the United Hebrew Congregation.
We recently processed the <a href="http://proust.library.miami.edu/findingaids/index.php?p=collections/findingaid&id=347&q=solomon" target="blank ">Frederick Solomon Papers, which feature the correspondence and writings of Dr. Frederick Solomon, an exiled Jewish rabbi active in Havana during the mid-20th century. Dr. Solomon headed the United Hebrew Congregation at Temple Beth Israel, located in Havana's Vedado suburb and home to the Centro Macabeo de Cuba. During his time at Temple Beth Israel, Dr. Solomon continued the tradition of conducting services in English, organizing religious services and authoring sermons for his congregation from 1953 to 1960.
A figure of Miami's Jewish-Cuban exile community is Bernardo Benes. A lawyer, banker and civic activist, Benes played an integral role in the release of thousands of Cuban political prisoners in the infamous 1978 diálogo (dialogue) with Fidel Castro. In 1991, we acquired the Bernardo Benes Papers, with materials added in 2008. This collection documents Dr. Benes' personal and professional activities with organizations such as the Cuban Hebrew Circle of Miami and the Greater Miami Jewish Federation. Read original post »
Photo of Everything I Kept (2001) by Ruth Behar, a handmade book from the CHC Vigía Collection.

A list of books pertaining to the Jewish-Cuban experience available at the CHC can be found here.

Additionally, the Luis J. Botifoll Oral History Project contains video interviews with three voices of the Jewish-Cuban community: Bernardo Benes, Israel Bichachi and George Feldenkreis. Learn more »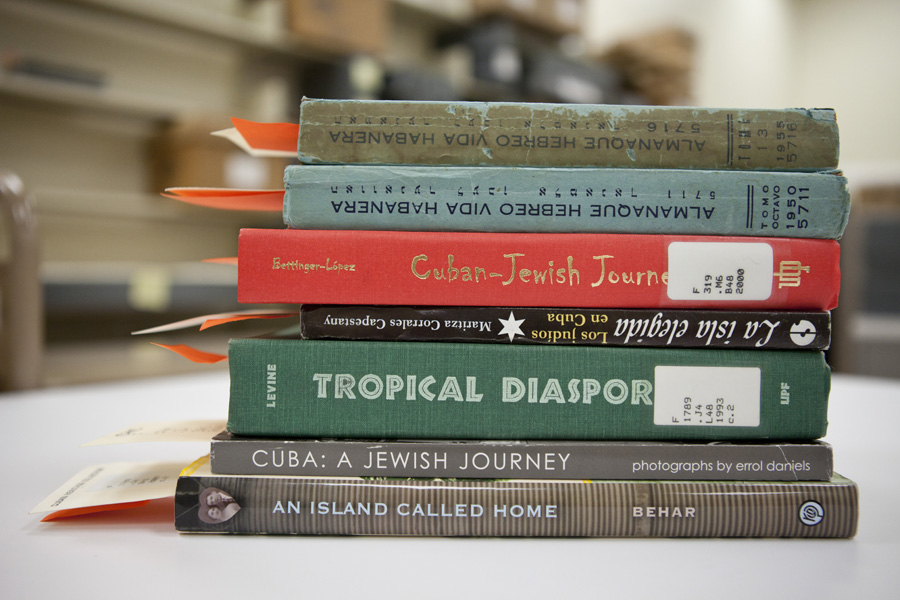 Books pertaining to the Jewish-Cuban experience available at CHC.