Picturing the story: exhibit opening, lecture on October 10th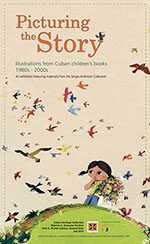 The Cuban Heritage Collection invites you to celebrate Hispanic Heritage Month with the opening of our latest exhibition, Picturing the Story: Cuban illustrators of children's books, 1980s-2000s (Dibujar el cuento: ilustradores cubanos de libros infantiles, 1980s-2000s). The exhibit brings together original drawings and their printed counterparts from several important Cuban illustrators. The exhibit opening will take place on Thursday, October 10th at 6.30pm in the Goizueta Pavilion of the University of Miami Library. The event will feature a presentation in Spanish by Cuban writer and scholar Sergio Andricaín. This lecture is presented in collaboration with Fundación Cuatrogatos as part of their "Fiesta de la lectura" ("Reading Festival"). For more information and to RSVP, please contact the CHC at 305-284-4900 or chc@miami.edu.
The exhibition features numerous children's literary works and art, including some works by Andricaín himself. It will be open to the public through January 2014.

Learn more about Fundacion Cuatrogatos »

Learn more about our collaboration with Fundación Cuatrogatos »

Mad Men of Cuba: Honoring Ricardo Arregui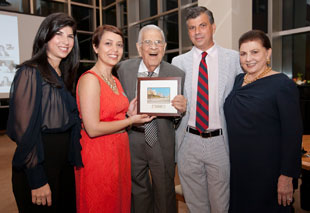 Ricardo Arregui, center, is surrounded by his daughter Victoria López Castro; CHC Chair Maria Estorino; his son, Richard; and wife, Olga.
Over 100 community members, including distinguished local artists and advertising professionals, joined family and friends of Ricardo Arregui at a reception on Thursday, September 26 to honor one of Cuba's original Mad Men, and celebrate the donation of his archive to the University of Miami Libraries' Cuban Heritage Collection.
The archive chronicles Arregui's prolific career dating back to the 1950s and contains historic photographs, iconic magazine print ad clippings, LP jingle recordings, and signature market research publications, to ultimately comprise the Ricardo Arregui Papers.
"The work we do is possible because of people like Ricardo Arregui, who shared his personal history with us by participating in our Luis J. Botifoll Oral History Project in 2012, and who has now entrusted us to care for his personal archive, the evidence of his long and storied career," said Maria Estorino, the Esperanza Bravo de Varona Chair of the Cuban Heritage Collection. Continue reading »

Watch a video interview with Ricardo A. Arregui from the Luis J. Botifoll Oral History Project »

Coral Gables leaders visit CHC
In the spirit of Hispanic Heritage Month, Coral Gables Mayor Jim Cason and City Commissioners Vince Lago and Frank C. Quesada visited the Roberto C. Goizueta Pavilion in September. These visits recognize the Cuban Heritage Collection as a national treasure right in the heart of the city of Coral Gables. Exhibitions, lectures, and other public events hosted by the Cuban Heritage Collection are free and open to our Coral Gables neighbors.
A retired U.S. Foreign Service officer, Mayor Cason served as Chief of the US Interests Section in Havana, Cuba from 2002 to 2005. Both Commissioners Lago and Quesada are of Cuban descent. We thank each of them for their visits to the Collection.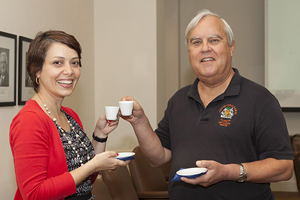 CHC Chair Maria Estorino and Coral Gables Mayor Jim Cason toast with cafe cubano during his visit to the Collection.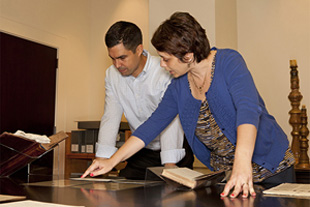 Coral Gables Commissioner Vince Lago learns about some of the unique items housed by CHC.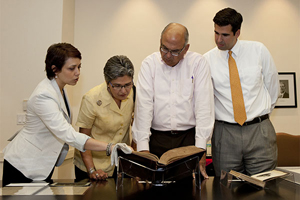 Commissioner Frank C. Quesada (right) and his parents view some of the Collection's rare materials with Maria Estorino.