Repertorio Español Archive Open for Research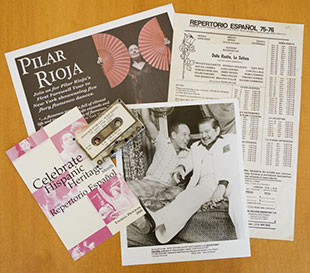 The records of the Repertorio Español theater company in New York City held by the Cuban Heritage Collection have been processed, and a detailed finding aid for the collection is now available. Researchers can consult folder-level descriptions of the collection to access the rich history of the ground-breaking Latino theater company. Materials in the collection include administrative records, correspondence, clippings, slides and photographs, audiovisual materials, and ephemera documenting the company's productions and relationships with emerging Latino theater writers, designers, and actors. Continue reading »

Award-Winning Project Uses Wikipedia to Promote Global Access to Archives

Articles about Cuban and Cuban-American actors, playwrights, directors, and production venues documented at the Cuban Heritage Collection (CHC) were recently published on Wikipedia, making available credible Cuban theater resources to a broader audience of researchers on the Web. The Cuban theater series concludes the pilot project for the Remixing Archival Metadata Project (RAMP) tool, developed at UM Libraries to efficiently transform archival finding aids into interconnecting Wikipedia entries. This award-winning effort was led by the Cataloging and Metadata Services team with the collaboration of the Web and Emerging Technologies team and CHC archivists. RAMP will continue to provide global access to a wide range of topics documented at the Libraries' unique and distinctive collections. Continue reading »

Perucho Figueredo Letter Donated to the Cuban Heritage Collection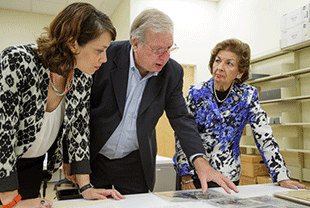 Frank Angones recently donated a letter written by his great-grandfather, Pedro "Perucho" Figueredo, to his wife Isabel Vazquez. The author of Cuba's national anthem, "La Bayamesa," Perucho Figueredo (1818-1870) was a lawyer and freedom fighter from the town of Bayamo who was executed by the Spanish in 1870. Mr. Angones is a noted lawyer and the first Cuban-born president of the Florida Bar. He recently visited the Goizueta Pavilion with his wife Georgie to present the letter to Esperanza de Varona, Professor Emeritus, and María R. Estorino Dooling, Chair.

La Belle Créole Draws Crowd to the Cuban Heritage Collection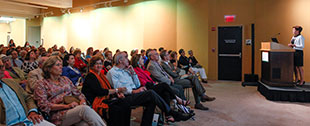 Alina García-Lapuerta presents her biography of the Countess of Merlin at the Libraries' Roberto C. Goizueta Pavilion. Photo by Andrew Innerarity.
Sharing her seven-year journey following in the footsteps of the historic Countess of Merlin, biographer Alina García-Lapuerta presented her new book, La Belle Créole: The Cuban Countess Who Captivated Havana, Madrid, and Paris at the University of Miami's Cuban Heritage Collection (CHC) on Thursday, September 11.
Scenes of Colonial Cuba, Napoleonic Spain, and nineteenth-century Parisian society came alive in the Roberto C. Goizueta Pavilion, where more than 130 community members gathered for the event, co-presented by Books & Books and sponsored by BB&T and the Amigos of the Cuban Heritage Collection. Continue reading »

View photos from the event »