Cuban Heritage Collection Launches New Website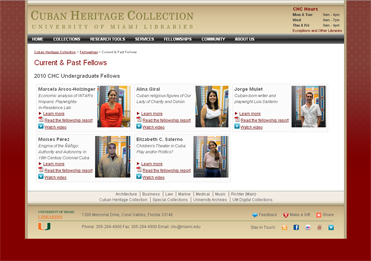 We are delighted to announce the launch of our newly redesigned Cuban Heritage Collection website, loaded with new information and features. Key among these:
A tabbed search box on the Home page allows for quick keyword searches of our various access tools.
The new Research Tools section helps users access CHC materials and carry out their research efficiently and effectively.
The Fellowships section provides information about funding available to students for carrying out research in CHC and shares information about current and past fellows.
Along with our new website, we are introducing several new initiatives that will enhance our presence on the web and allow you to stay in touch with us. Learn more »

About Pregones
You are reading the first issue of Pregones, the new monthly CHC e-newsletter. We are launching it to go along with our new website as a convenient way to share with you our latest news, updates, and events details. You are receiving this e-newsletter because you are on our e-mailing list as a donor, researcher, or Amigos member. If you would like recommend Pregones to a friend, please forward them this link.

CHC Graduate Fellows Colloquium on Tuesday, September 7th
Join us in the Otto G. Richter 3rd Floor Conference Room at 2:00 p.m. on Tuesday, September 7th when Sharada Balachandran Orihuela and Bonnie Lucero present and discuss their work as 2010 CHC Graduate Fellows. Sharada Balachandran Orihuela (University of California, Davis) is conducting research on "From Flags to Freeways: Hemispheric Routes of Exchange and Nation-formation in Cuba, Mexico and the U.S.;" and Bonnie Lucero (University of North Carolina, Chapel Hill) is writing about "Post-colonial Peculiarities: Cultural Reflections of Race and Gender on the Road to Cuban Independence." Sharada Balachandran Orihuela and Bonnie Lucero are recipients of CHC Graduate Fellowships in the Research and the Pre-Prospectus category, respectively.
The Cuban Heritage Collection Graduate Fellowships provide assistance to graduate students who wish to use the research resources available in the Cuban Heritage Collection at the University of Miami. The goal of these Fellowships is to engage emerging scholars with the materials available in the Cuban Heritage Collection and thus contribute to the larger body of scholarship in Cuban, hemispheric, and international studies. The 2010 CHC Graduate Fellowships are generously funded by The Goizueta Foundation. Learn more »