Message from the Chair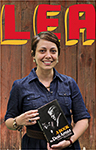 At the University of Miami, we are just starting a new academic year and welcoming faculty and students back to campus. The Cuban Heritage Collection had a very busy summer with ten of the thirteen Graduate Fellows for 2013-2014 in residence between June and August, along with other scholars from around the world. We are always thrilled to support the research endeavors of our users and, through them, engage with the cutting edge of scholarship in Cuban studies.
This month begins with a couple of staff transitions in the Cuban Heritage Collection. We welcome Meiyolet Mendez to our team as CHC Librarian. Hers is a key position for the care and management of our books and periodicals, teaching activities, and research services. You will be hearing more about Mei and her work in the coming semester. Continue reading »
María R. Estorino Esperanza Bravo de Varona Chair Cuban Heritage Collection University of Miami Libraries

Food and Memory exhibit inspires new Restaurant Ephemera Collection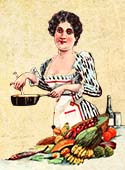 We've recently completed processing the Restaurant Ephemera Collection, which contains restaurant, bakery and cafeteria menus, brochures, flyers and miscellaneous objects from eating establishments in Cuba and its diaspora. This collection was inspired by the materials in last spring's exhibit titled Food and Memory: An exploration of Cuban cooking, 1857-today. Continue reading »
Help us grow our collection by sending us Cuban restaurant menus, photos and memorabilia to the address below:
Cuban Heritage Collection Attn. Natalie Baur 1300 Memorial Drive Coral Gables, Florida 33146

Read more posts related to this series »

Read stories on Cuban cooking in WLRN's series "The Cuban Kitchen" »

New digital collection sheds light on abolition in Cuba

Detail from a document granting Francisco Ortega permission to relocate his patrocinado named Marcelo to the municipality of Macuriges, July 21, 1880. View full record for this image.
The CHC is continually working to publish new digital collections from its unique archival holdings. One of the most recent additions to the CHC Digital Collections is a group of rare historical manuscripts that sheds light on an important period in Cuban history. TheJunta Provincial de Patronato de Matanzas Records contain official documents created between 1871 and 1889, when Spain was slowly moving to abolish slavery on the island. This blog post provides some historical context for the collection and then highlights a series of enhancements designed to make the collection more accessible to online users.
The abolition of slavery in Cuba involved a gradual process that unfolded over the course of nearly 20 years. The final stage of that process began in 1880, when the Spanish colonial government passed the "Ley de Patronato," which declared a formal end to slavery but left the old system largely intact under a different name. The term given to the new, transitional system was patronato, which could be loosely translated as "sponsorship" or "apprenticeship." With a stroke of the pen, former slaves became known as patrocinados, or apprentices, and former masters became known as patronos, or sponsors. Continue reading »

Cuban memories: Remembering Cuban comedian Guillermo Alvarez Guedes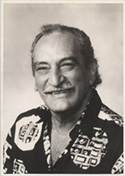 Cuban comedian Guillermo Alvarez Guedes, 86, died Tuesday at his home in Miami. Renowned and loved throughout the Spanish-speaking world, he will be remembered for his decidedly Cuban humor that will continue to bring laughter to his fans.
In a 2010 interview with El Nuevo Herald, Alvarez Guedes touched upon the universality of his comedic style: "I always try to make all Spanish-speaking people laugh. Some laugh more than others, but what's most important to me is that people get enough 'material' to improve their health." Continue reading »

Watch a video interview with Guillermo Alvarez Guedes from the Luis J. Botifoll Oral History Project »

Learn more about the Guillermo Alvarez Guedes Collection »

Famed Cuban Hunger Striker Visits CHC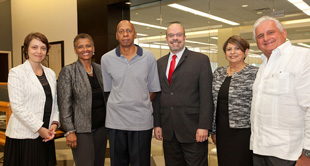 CHC Chair Maria Estorino, Acting Dean & University Librarian Yolanda Cooper, Guillermo Fariñas Hernández, Amigos Chair Aldo Leiva, Gladys Gómez-Rossié and Carlos P. Quintela.
Last week, Cuban dissident Guillermo Fariñas Hernández made a stop at the CHC for a tour at the invitation of Carlos P. Quintela, a member and former chair of the Board of Directors of the Amigos of the Cuban Heritage Collection. Fariñas is a Cuban doctor of psychology and independent journalist who has conducted more than 20 hunger strikes over the years to protest various elements of the Castro regime. He visited the University of Miami Libraries' Cuban Heritage Collection on August 6, viewing a small exhibition of some of its rare books and documents and touring the collection's stacks.
Fariñas said he was impressed with the CHC and urged librarians to continue collecting and preserving materials. "With work like this, one day the true history of [Cuba] can be restored for Cubans living on the island," Fariñas said in Spanish.

Read more in the University of Miami's faculty and staff newsletter, e-Veritas »

View more photos on CHC's Facebook »