CHC Examines Cuban Rafter Crisis through a Digital Lens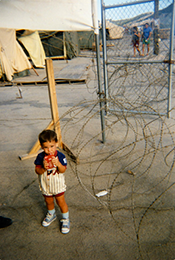 In our ongoing commemoration of the twentieth anniversary of the Cuban Rafter Crisis, CHC is launching two online resources providing a close examination of the crisis and critical events surrounding the sea exodus. The new exhibition "Between Despair and Hope: Cuban Rafters at the U.S. Naval Base Guantánamo Bay, 1994-1996" and the redesign of "The Cuban Rafter Phenomenon" site are now on view. Learn more »
The launch of these sites is meant to coincide with the Guantanamo Public Memory Project exhibit in Miami, currently at the Little Haiti Cultural Center and at the University of Miami at the end of September.
For research materials on the Cuban rafter crisis or to schedule a class visit to CHC focusing on this topic, please contact us at chc@miami.edu.

CHC Materials on View
The Cuban Heritage Collection has contributed books, photographs, documents, and original art from our holdings to four external exhibitions on view this fall. If you see our materials at any of these, snap a photograph and tag us on Instagram or Twitter @UMCHC.
Wifredo Lam: Imagining New Worlds at the Boston College McMullen Museum of Art, August 30-December 14, 2014, at the High Museum of Art Atlanta, February 14-May 24, 2015
Margarita Cano: Once Upon an Island at the Miami-Dade College Wolfson Campus Centre Gallery, September 4-October 31, 2014
Kept at Bay: Art on Guantánamo at Florida International University's Frost Art Museum, September 10-October 19, 2014
The Exile Experience: Journey to Freedom at Miami-Dade College Museum of Art + Design at Freedom Tower, opening on September 19, 2014

This Just In: Items from the Collection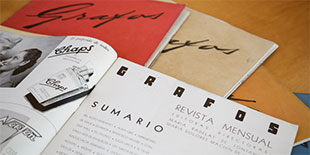 A new blog series produced by CHC librarians and staff highlights a variety of historical and archival materials that have been recently added to the collection. Check out our inaugural posts:
Grafos Magazine: Cuban Arts and Culture Magazine of the 1930s Now Available
A Refugee Cookbook: Recipes from Miami's Freedom Tower

CHC Research Colloquia September Schedule

Join us for the Cuban Heritage Collection's 2014-2015 Research Colloquia. ​RSVP to 305-284-4900 or chc@miami.edu.
Tuesday, September 16 at 3 p.m. Jeanine Navarrete, University of North Carolina at Chapel Hill (CHC Graduate Fellow) "See it like a native": Race and the Politics of Latino Immigration to Miami, 1965-1980

View a list of CHC events »