Director's Statement

Dear Friends of the CHC,

As we enter a new year, we do so with a sense of hope and optimism. The Cuban Heritage Collection (CHC) shifted to an almost all-remote work environment in March 2020, and we have approached the challenges posed by the pandemic as opportunities to think more creatively in the ways we carry out our core duties; we welcome 2021 in that same spirit! In the last year we have adapted new practices that have allowed us to continue serving our students and faculty in their research and teaching needs via virtual instruction sessions, as well as providing assistance to University-affiliated and external researchers remotely.

We have acquired notable collections that continue to grow our repository in significant and strategic ways, and in launching the library's first webinar series we ensured that we continue to engage our diverse audiences through meaningful public programs. We featured weekly posts on social media about upcoming programs and highlighted collection items, as well as updated our website to better engage and offer to our patrons a more comprehensive picture of who we are, the work that we do, and the many prestigious academic programs that we offer.

As we prepare to develop an exciting array of academic and public programs for 2021, we look back to highlight the many accomplishments of the year we leave behind and of the plans that lie ahead!

Warm regards,

Elizabeth Cerejido, Ph.D.
Esperanza Bravo de Varona Chair
Cuban Heritage Collection
University of Miami Libraries
EL EFECTO MARIEL
Innovating New Models for Scholarship and Outreach

El efecto Mariel: Before, During, and After was conceived as a goal to create a forum that would allow us to embark on an in-depth study of a particular subject. This approach bridged for us a connection to a diverse and broad network of scholars in and outside of the University of Miami community, it fueled collaborations with University library departments and community organizations, allowed us to experiment with new facets of our operations, and even bolstered new and existing areas in collection development. The program served as a pilot whereby all aspects of our operations focused on one central theme.

We invited a diverse group of presenters to address a host of topics pertinent to the antecedents and legacy of the boatlift. Scholars, writers, community leaders, journalists, and diplomats such as Julio Capó, Jr., Danielle Clealand, Siro del Castillo, Alejandro de la Fuente, María de los Angeles Torres, Monika Gosin, Aida Levitan, Antonio López, Mirta Ojito, Ambassador Ernesto Pinto-Bazurco Rittler, Chanelle N. Rose, Fabiola Santiago, and others contributed meaningfully to the conversation on Mariel, often challenging established narratives specifically about the role that race played in how this unique wave of immigrants was received in South Florida and beyond.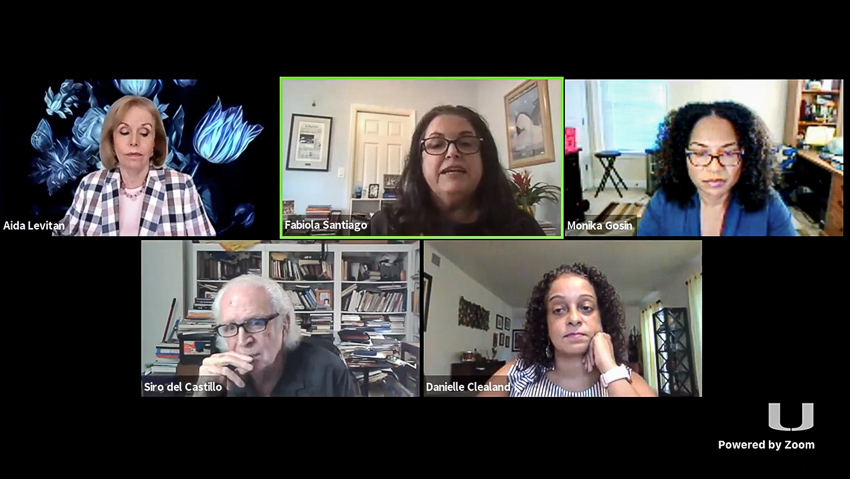 Screenshot from "The Exile Community Responds: Solidarity and Stigmatization" online event on September 17, 2020.
With the aim of strengthening CHC's partnerships and broadening our outreach beyond the UM community, we invited Harvard University's Cuba Studies Program to co-host the webinar series and HistoryMiami Museum generously sponsored a webinar. In addition, we collaborated with HistoryMiami Museum on an ongoing oral history project focused on capturing Mariel-related stories.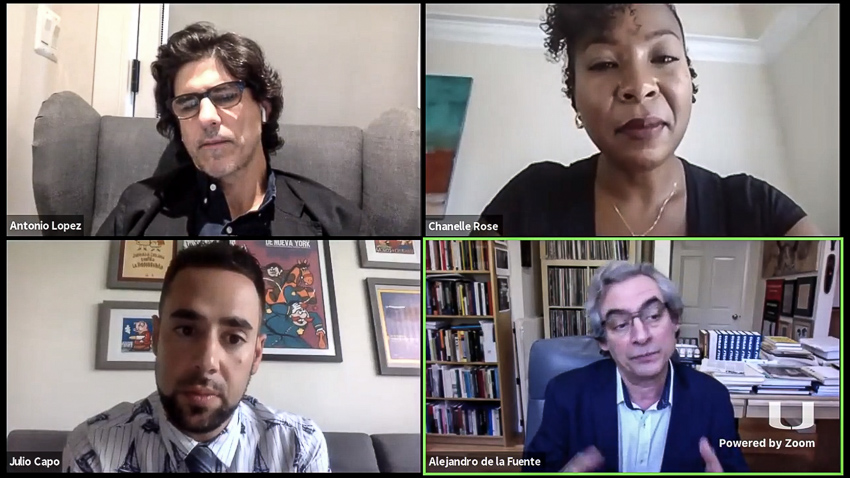 Screenshot from "The Mariel Effect: Social and Racial Tensions in South Florida in the Wake of the Boatlift" event on October 15, 2020.
In the area of collecting, we procured collections that augmented our existing holdings about the Mariel Boatlift, its antecedents and aftermath. Highlights include a series of documents and other archival materials of Mariel generation writers and playwrights, such as a cache of letters by composer Julián Orbón written to Cuban visual artist Jorge Camacho, as well as annotated manuscripts of Roberto Valero's Pero nadie sabe su nombre, an unpublished long poem; Carlos Victoria's La travesía secreta; and José Triana's Un aire de imposible, an unpublished novel. This important acquisition also contains copies of typescripts of several works by Reinaldo Arenas that include his memoirs, Antes que anochezca (1991), with corrections made by both Arenas and fellow poet and scholar Roberto Valero; a selection of Arenas' stories titled Adiós a Mamá; and the novel La loma del ángel.

Other notable Mariel-related collections include the personal archives of René Cifuentes—close friend of Reinaldo Arenas, author, and one of the founders along with Arenas, of Mariel: Revista de literatura y arte. Cifuentes was part of the webinar series in which he presented items from his collection that illustrated his friendship with Arenas during the 1980s, which developed when the two settled in New York upon their arrival to the U.S. from the port of Mariel.
Screenshots from "Pluma y Plumero: Palabras y Papeles de Reinaldo Arenas presentado por René Cifuentes" online event on November 12, 2020.
El efecto Mariel was an ambitious undertaking and its success depended on the commitment and hard work of many inside UM and beyond. I want to thank our planning committee members: Mirta Ojito, María de los Angeles Torres, Lillian Manzor, Michael Bustamante, Leticia Callava, Alfredo Durán, Barbara Gutiérrez, as well as the faculty and staff of the CHC, Annie Sansone-Martínez, Amanda Moreno, and Martin Tsang. The Libraries' Events and Information Technology teams—Vanessa Carreño-Valle, Ivette Uria, Stefanie Rodríguez, and Rafael A. Pagán-Moll—deserve a special shout-out for the invaluable behind-the-scenes support they provided to ensure that all webinars ran smoothly. And another special acknowledgment goes to graphic designer Kerrie Kirtland for the bold and forward-thinking creativity that went into all marketing assets for this program. The meaningful contribution of all further cemented the CHC's leading position in supporting innovative scholarship in Cuban and Cuban American studies.

For a full description of all program offerings, to view past webinars, and learn about our extensive list of resources on Mariel, click here. The programs' recordings are now part of our ongoing oral histories that provide personal perspectives on the impact and legacy of Mariel. For a curated list of research resources on Mariel, click here.
COLLECTION BUILDING

Other acquisitions include a signed, unpublished, original manuscript by the renowned Cuban poet Virgilio Piñera titled En esa helada zona…farsa en tres actos y dos finales from 1943. Piñera was also an accomplished playwright; among his most famous theater works is Electra Garrigó. This rare script is a valuable resource for scholars wanting to learn more about Piñera's important role in modern Cuban theater. We purchased a large-format reconnaissance map of Cuba from 1906 comprised of six sheets of coated linen, measuring more than 15 feet wide if joined, that was issued for use by the so-called Army of Cuban Pacification in the reoccupation of the island ordered by President Roosevelt. This is an extremely rare map of Cuba from the years of American occupation, with only four institutional examples located.

Expanding our holdings on music history, we added an original manuscript, music scores, and ephemera from the 1960s related to Cuban composer, Pablo Ruiz Castellanos (1902–1980). Ruiz Castellanos began conducting and composing in the 1930s, specializing in large-scale symphonic poems in a nationalist spirit. He taught for many years at the Guanabacoa Conservatory in Havana.

We would like to acknowledge the passing of beloved community member Carlos Arboleya, whose bequeathed collection of materials related to his work with the Miami chapter of Boy Scouts of America, as well as information about his professional career in banking were donated to the CHC. Arboleya dedicated his life to the advancement and guidance of the youth in our community and his leadership role in this area garnered him many accolades including the Silver Beaver award, one of the highest honors in the scouting world. The Carlos J. Arboleya Camping and Picnic Grounds were named after him in recognition of his 40 years of leadership.

This past December we partnered with Miami-based art gallery Pan American Art Projects on a project titled Books & Artworks—an online auction organized by the gallery to benefit the Cuban Heritage Collection. Proceeds from the sale went toward our goal of growing the CHC's collection of materials on Cuban art history. We are grateful to Janda Wetherington and Roberto Borlenghi for this opportunity and thank all the bidders who supported us in this effort. Among notable items acquired from the auction are Colección de caricaturas por Conrado Walter Massaguer, a beautifully illustrated monograph from 1922 signed by Massaguer; a signed copy of Wifredo Lam por Fernando Ortiz (featured below) from 1950 with an original illustration by Lam; and an impressive mixed media artist book by Ricardo Brey, The Kingdom (featured below) from 2009.

We would have been unable to purchase these resources without the crucial support of the Goizueta Collection Endowment.
CHC IN THE COMMUNITY
Exhibits and Publications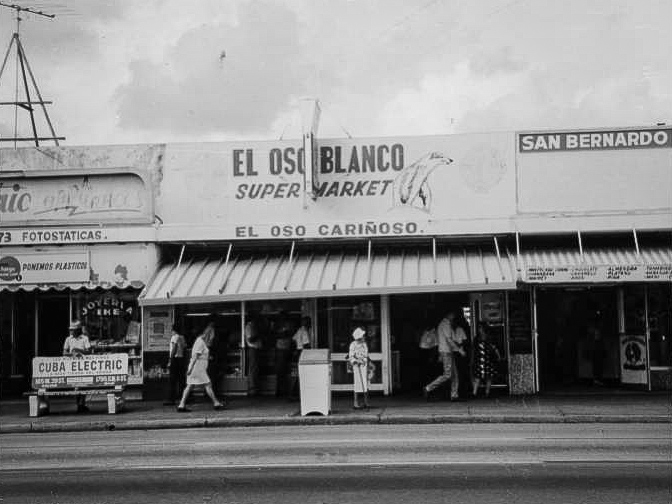 "View of El Oso Blanco Supermarket" in Miami, Florida. Photo by Josefina Tarafa. Cuban Heritage Collection, University of Miami Libraries.
We take pride in collaborating with leading institutions in our community such as Miami-Dade College. This past year we were the principal lender to the exhibition Remaking Miami: Josefina Tarafa's Photographs of the 1970s presented in the Cuban Legacy Gallery on the ground floor of the Freedom Tower. Curated by José Antonio Navarrete, the exhibition features 30 photographic prints posthumously reproduced from selections of the CHC's Lydia Cabrera papers. Tarafa's work documents how Cuban immigrants contributed to transforming Miami culturally, as well as economically and socially.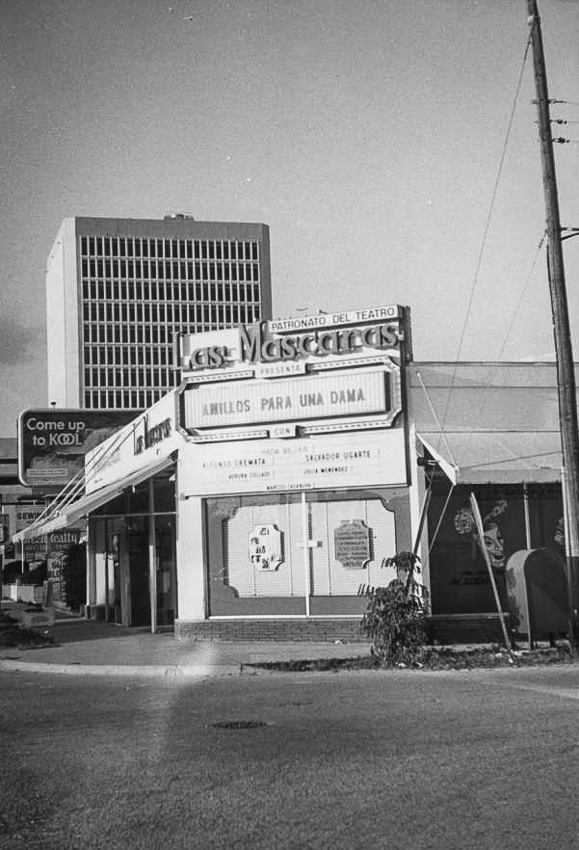 "Exterior view of Patronato del Teatro Las Máscaras" in Miami, Florida. Photo by Josefina Tarafa. Cuban Heritage Collection, University of Miami Libraries.
Also of note is the recent publication of the translation of Lydia Cabrera's La lengua sagrada de los Ñáñigos, or The Sacred Language of the Abakuá. Edited and translated by Ivor L. Miller and P. González Gómez-Cásseres, and with images from the Cabrera papers, this is the first English-language translation and extensive notation of a seminal work from the African diaspora. The book has been published by the University Press of Mississippi.
OBJECT-CENTERED TEACHING AND LEARNING

The CHC continues to play an important role in CREATE grant initiatives which are funded by the Andrew W. Mellon Foundation and designed to promote the integration of objects in the University of Miami's Libraries, including the Cuban Heritage Collection, Special Collections, and the Lowe Art Museum, into object-centered teaching, learning, and scholarship. CHC Archivist Amanda Moreno and Librarian Martin Tsang have worked closely with UM faculty on the following three CREATE grant projects, each spearheaded by a UM faculty member:
"Intervisuality: Painters on Greater Cuba's Stages" led by Dr. Lillian Manzor, associate professor, Modern Languages and Literatures, and founding director, Cuban Theater Digital Archive. Dr. Manzor's project formed the basis of ArtLab 2020, an exhibition-based course at the Lowe Art Museum. By combining the Lowe's vast collection of Cuban artists and the CHC's materials on Cuban performing arts, students explored how 20th and 21st century Cuban artists expressed themselves on canvas and through scenography for theater and dance. The class culminated in a presentation and exhibition catalog.
"Stories from Little Havana: Family Migration Past, Present, and Future" led by Dr. Jennifer Kahn, assistant professor, Department of Teaching and Learning, School of Education and Human Development. The grant helps further an education research project focused on the use of cultural heritage resources to promote student storytelling about migration, identity, and relocation.
"Im/material Pedagogies: Building an Interdisciplinary and Holistic Curriculum on Archival Studies" is a new class led by Professor Yolanda Martínez-San Miguel in the Department of Modern Languages and Literatures and will be co-taught with CHC faculty Martin Tsang and Amanda Moreno, along with Head of Manuscripts & Archives Management and Curator of Caribbean Collections Béatrice Colastin Skokan. The CHC will pilot the course in the fall 2021 semester to graduate students who wish to expand their understanding of archives through hands-on training with our collections, while emphasizing the Caribbean and Latin America. By working with the faculty of the Cuban Heritage Collection and Special Collections, students will experience multiple facets of archival processing and collection management, as well as explore critical theory relating to archives.
Please visit the CREATE website for more information about the program.
LOOKING FORWARD

On April 12 we will join Florida International University's Cuban Research Institute and Books & Books for the launch of Professor Michael Bustamante's new book titled Cuban Memory Wars: Retrospective Politics in Revolution and Exile (University of North Carolina Press, 2021). The book draws "on troves of archival materials, including visual media, [as] Bustamante tracks the process of what he calls retrospective politics across the Florida Straits. In doing so, he drives Cuban history beyond the polarized vision seemingly set in stone today and raises the prospect of a more inclusive national narrative." Bustamante is a former Goizueta Fellow and close friend and collaborator of the CHC. We are proud to be joining our colleagues at Florida International University and Books & Books in promoting this event. Be sure to join us on April 12 at 7 p.m.!

In fall 2021 we will host our fourth New Directions in Cuban Studies biennial conference, this time in partnership with Harvard's Cuba Studies Program. Stay tuned for more exciting news about this and our other academic programs!
RESEARCH SERVICES

Although our reading room is available exclusively to UM students, faculty, and staff due to the pandemic, we continue to provide remote assistance for research inquiries to others in the community and beyond. Please contact us at chc@miami.edu or via phone at 305-284-4900 to learn more about how we can provide assistance.

Visit our website

for digital resources, news, and announcements.