2015-2016 CHC Research Colloquia Convenes
As we welcome a new class of graduate fellows to the Roberto C. Goizueta Pavilion, we open the 2015-2016 CHC Research Colloquia. Join us as fellows and other researchers discuss their work and their research in the Cuban Heritage Collection. Colloquia are open to the public and scheduled for 3 p.m. unless otherwise noted. RSVP to 305-284-4900 or chc@miami.edu.

Thursday, June 25
Rebecca Salois, CUNY (CHC Graduate Research Fellow)
"Choteo Cubano: Humor as a Critical Tool in 20th Century Cuban Theater"

Tuesday, June 30
Sara Kozameh, New York University (CHC Graduate Pre-Prospectus Fellow)
"The Agrarian Reforms in Revolutionary Cuba: 1959-1965"
CHC Honors Cuban Sculptor Roberto Estopiñán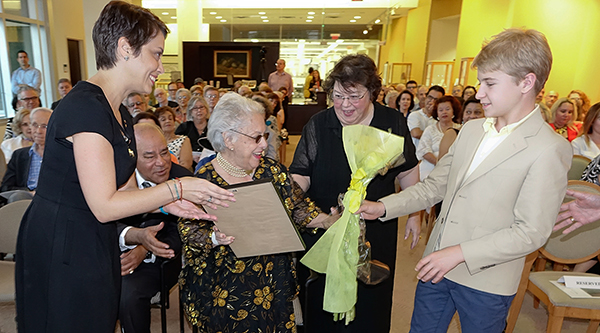 Carmina Benguría, widow of Roberto Estopiñán, is honored by CHC Chair Maria Estorino Dooling (left), Ileana Fuentes of the Cuban Museum, and Benguría's great-nephew Griffin Pace, during the May 28 celebration of Estopiñán's life and work. View more photos ⇾
Friends, family, and longtime admirers of Cuban sculptor Roberto Estopiñán shed light on the late artist's vision and the compassion behind his celebrated work during an event held in his memory at the Cuban Heritage Collection (CHC) and co-presented with the Cuban Museum on May 28. Estopiñán, who died in Miami in January 2015 at age 93, is widely known for his work in sculpture describing the complexities of the human condition, often through interpretations of the female form. Learn more ⇾
Former CHC Scholar Mackenzie Sheldon Wins Fulbright Award
Congratulations to our student assistant Mackenzie Sheldon, who received a Fulbright Award to teach English in Argentina. Mackenzie received her M.A. in Latin American studies this month. She was previously a CHC Undergraduate Scholar and most recently worked on the digitization of the Willy Gonzalez slide collection. We wish her all the best! Learn more ⇾
Former CHC Fellow Martin Tsang to Join UM Libraries Faculty
Martin Tsang will be the Council on Library and Information Resources (CLIR) Postdoctoral Fellow in history and area studies at the University of Miami Libraries. In this role, he will serve as a liaison librarian for faculty and students in history and Latin American studies as well as other assignments. Martin will be working to develop print and digital collections, provide consultative and instructional research support services, and assist the Libraries in designing a new model for transformative library engagement with our research and teaching communities.
Martin was a CHC Graduate Pre-Prospectus Fellow in 2010-2011 and a Research Fellow in 2012-2013. He holds a Ph.D. and M.A. in global and sociocultural studies (anthropology track) from Florida International University and an M.A. in social anthropology from the School of Oriental and African Studies at the University of London.

We are thrilled to help welcome Martin to the University of Miami Libraries. He will begin his new post on June 24, 2015.