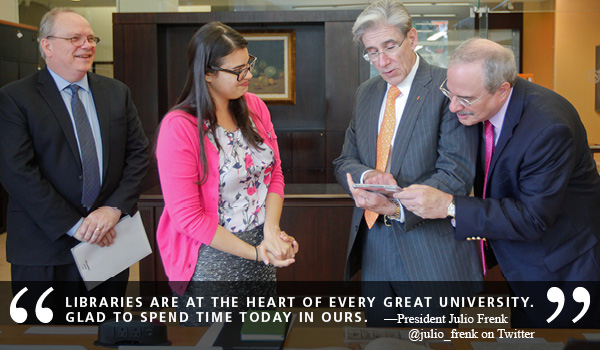 University of Miami's president Dr. Julio Frenk and first lady Dr. Felicia Knaul came to Richter Library and toured the Cuban Heritage Collection's Roberto C. Goizueta Pavilion in September 2015 as part of the president's 100-day Listening Exercise. Pictured from left to right: Dean of Libraries Chuck Eckman, Interim CHC Chair Mei Méndez, President Julio Frenk, and Provost Thomas J. Leblanc at the Cuban Heritage Collection.
Artist María Martínez-Cañas Sheds Light on Her Photographic Path in Conversation at CHC
You may have viewed the Quince Sellos Cubanos exhibition at Richter Library without realizing, at least at first, that you're actually looking at photography. This is not an uncommon response to the style of artist María Martínez-Cañas, nor an unwelcomed one. In visiting the 15 iconic scenes depicting Cuba's past, reimagined from the artist's childhood stamp collection, you're encouraged to take them apart as a way of understanding how they connect and the complex narrative that they together form.

"Photographs can be more than a way of recording the world. They can also be a tool for understanding who you are," Martínez-Cañas explained during a November 19 event at the Cuban Heritage Collection, where she provided a closer look at how her unique style has helped her explore history, memory, and identity, among many other themes, during a conversation with professor J. Tomás López. Continue reading »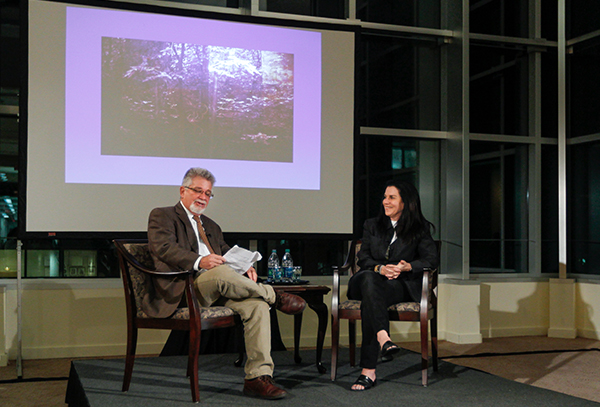 J. Tomás López, UM Professor of Art and Art History, and artist María Martínez-Cañas
Book Talk: Author Examines Cuban TV's Remarkable History
Yeidy M. Rivero, Ph.D., engaged community members in a discussion about commercial television in Cuba on Wednesday, September 9, 2015, at the Cuban Heritage Collection. The presentation of her book, Broadcasting Modernity: Cuban Commercial Television, 1950-1960, was co-sponsored by Florida International University's Cuban Research Institute. Learn more »
Call for Applications: 2016-2017 CHC Goizueta Foundation Graduate Fellowships
Fellowships are open to doctoral students who wish to use the Cuban Heritage Collection's resources for dissertation research. Learn more about the program's exploratory and research fellowship opportunities to apply by Monday, February 1, 2016.

Coming Soon: Objects in the Archive
Our upcoming exhibition will highlight objects from the Cuban Heritage Collection's holdings along the themes of art, education, religion, and industry in Cuba and the Cuban Diaspora. Stay tuned for more information!